Our wine of the week 25th March was an Italian wine from the border zone of Carso. Here is a neighbour, from a Friuli-Slovenia tasting earlier this week. In fact Marjan Simčič's winery is no more than 100 meters from the border. Another producer from our tasting was Radikon, only 11 km away, surprisingly enough to the east, because the borderline does a bend.
Furthermore Simčič's vineyards are found in the Brda hills, on both sides of the border.
We are in a crossroads between the Mediterranean and the Alps. The Goriška Brda soil was under water in ancient times, and it's today a soil rich in minerals.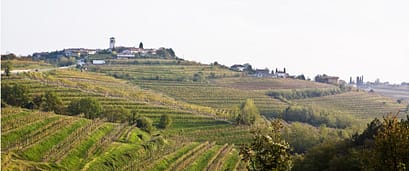 Here the Simčič family cultivates the grapes the most natural way possible. They respect the vine's natural capacity and are satisfied with a low crop, with the grapes on the vine as long as possible. The cellar practices are also deeply respectful of what comes in from nature.
Jožef Simčič was a pioneer in Brda. He bought his first pieces of land in 1860. Mirjan is now fifth generation.
They follow tradition and allow their grapes to mature, to produce a balanced aroma and a richer taste. No chemical fertilizers or insecticides are used.
The Selekcija is the second range of wines (the most expensive wines are called Opoka, only produced in special harvests). The Selekcija wines are selected from the oldest vines and matured slowly (2 to 4 years) in casks and wooden barrels of different sizes. None of these undergo filtration.
The ribolla grape is in Italian mostly called ribolla gialla, and in Slovenia also rebula, and other similar spellings. Typically it gives deep coloured but light bodied wines with high acidity and floral notes. It's not unusual that it develops nutty flavours with some ageing.
We tasted three interesting wines from the winery this wine club evening. Here I chose the "selected" ribolla.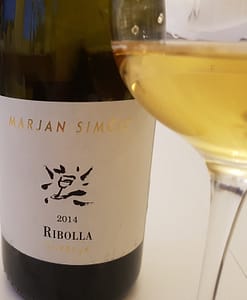 Ribolla Selecktija 2014 (Marjan Simčič)
Yellow colour. Aroma of mature apples, bread, herbs and white pepper. Rich and full on the palate, evident but rounded tannins from skin-contact, and a natural and integrated acidity.
Price: Medium
Food: Tasty fish and shellfish, foie, light meat