Finally I got the chance to visit Rodrigo Filipe, who makes the wonderful Humus wines. He can be found at his farm Quinta do Paço in the village Alvorninha. This is in the Óbidos part in the far north of the big Lisboa region. Here he makes cool Atlantic wines, guided by nature, experience and intuition, more than school oenology.
Before this day I had enjoyed a few of his wines at wine bars and cafés, such as this one. So I felt that I visit was overdue, and I am very glad that I finally made it to the quinta to meet the sympathetic man behind the work.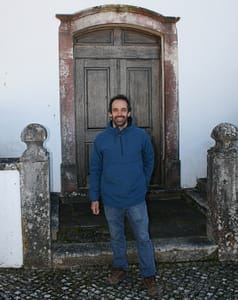 Quinta do Paço is a family propriety of a total of 20 hectares, of which around 10 are planted with vines. We are about 150 meters above sea level, between the Atlantic and the Serra dos Candeeiros range that enjoys a special soil and climate. The soil is calcareous/limestone with clay. The valley lies in a north-west direction, that secures longer maturation, and more acidity in the wines. Having said that, the wind was also shifting while we were there, so at one point there came a warmer breeze from the east (-from Spain, he joked). But as a whole the cool Atlantic breeze and high humidity contribute to a slow ripening and a high natural acidity.
Coming from a job as an engineer, Rodrigo took over the farm from his father in 2000, and it was from then that the project became more serious. It has been learning by doing, sometimes wrong, but always in a clear direction towards tasty and healthy wines. In other words, Rodrigo had no formal training in wine at the time. And even if he has taken a few courses, to this day he takes many decisions by experience and intuition, such as determing when to harvest.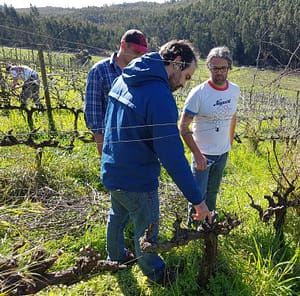 The grapes are mainly local, or at least of Portuguese origin. -We use the grapes that are best adapted to our place, and the yields are kept lower than normal for the area, says Rodrigo. -We give special treat to the soil, because it must be alive to bring out the best of the varieties.
The beans give nitrogene to the soil
As we walk around the property it becomes clear that Rodrigo is in harmony with his farm and the land, and the farming is just very simple. He fertilizes with natural compost, and of additives there is only occational use of small quantities of copper and sulphur. Fermentation starts by itself after 5-6  days. The white wines are fermented in used barrels, and the reds are destemmed, pressed, fermented in steel and aged in used oak. The wines are never fined or filtered. We believe him easily when he tells that he has great pleasure to make, and share, authentic wines made in a very natural way.
The vigorous touriga nacional grape, here with eucalyptus to the left and cork trees in the middle
As we went along we tasted a few samples. A castelão 2017 was full of red fruits, still a little reduced (like some of the other wines, but it's fixed with airing), mellow in the mouth, and the 16 (less maceration, 5 days) was lighter with lovely fruit and a wonderful natural acidity.
A touriga nacional rosé 17 (an "acidity year", as Rodrigo puts it) had a wonderful salmon pink colour, strawberry and floral aromas, quite full in the mouthh, and yes, a refreshing acidity. Among the other 17's a fernão pires was delighful, quite full and glyceric, with aromas of flowers, herbs and some wax. An arinto had the typical lemony acidity, and both apple and some herbs on the nose.
The barrels used are 10 years old. Chestnut was tradition here, just like clay
A white touriga nacional, a "blanc de noirs" 2017  matured 6 months over arinto skins (how did he come up with that idea anyway?): Yellow with trace of red; appley and grapey with some pharmacy notes. What is more: There is one over fernão pires skins too. Salmon pink colour, this was more fruity, still with apple notes, but flowers and menthol, and with a dry texture. Rodrigo explains, -Chestnut and clay give dryness, the wine "oxidizes" more because of a longer distance between the fibres, while oak can give a reductive tone. Then these two can balance each other.
We tried more touriga samples. Not to bore my readers too much I can say that the samples follow the line of the bottled wines; they are cool, natural with a fresh Atlantic feel.
Rodrigo together with Luis Gil after a long day in the vineyard
Among the bottled wines we tasted the cool and fruity Espumante 2010 and a Rosé (a blend of 2014-15-16, mostly castelão). Then on to the Humus range:
Humus Branco (no added sulfites) 2016 from fernão pires and arinto: Light yellow; it smells of mature apples, it's also waxy in the aroma (from fernão pires); it's full on the palate, a bit buttery, and with a good acidity (for which arinto is often a guarantist, but here also the climate). It has in fact more arinto, but the fernão pires shows a lot of influence.
Humus Curtimenta 2016: This is a creative take. The wine has also arinto and sauvignon blanc, that are fermented with skins for three months. This is added to freshly pressed touriga nacional ("blanc de noirs"). The colour thus becomes orange, and with a certain structure. But it's still in a way soft and mellow, I would say elegant. It has a lovely fruit, on the tropical side, but also flowers, citrus and a nutty touch. This is very pure and lively, full of taste, just delicious.
Humus 2012, a 100% castelão, was ruby red with aromas of red berries (cherry, raspberry) and some darker tones behind it. Likewise the fruit was forward, but there was also a slight tannin bite, and a fresh acidity. Very drinkable, very appealing.
Humus (no added sulfites) 2013: This wine, from touriga nacional and syrah, showed really nice, fresh fruit, violets, dark berries (blackcurrant), a balsamic touch. The tannins were round, the fruit ripe and with a slighly sweet spicy note, and with a long aftertaste.
Humus (no added sulfites) 2011 from touriga nacional and syrah: This is the second year without additions, not even SO2. It was a warm vintage, and the wine showed wild and meaty, on the nose dark berries, flowers and an earthy tone. Rich, with marmelade and spices.
A lovely bunch of wines, all lively, fresh, natural, and with the outstanding creative invention Curtimenta in the middle