Vino di Contrada is a series of three wines that come from specific sites in the same vineyard, planted exclusively with frappato. Here Arianna Occhipinti wishes to express various nuances that this magnificent grape can offer.
Contrada is a now unofficial subdivision of an Italian municipality. Bombolieri, or BB, comes from a site with a thin layer of sand over a rock with high content of limestone, much of it white in colour. This gives a wine that has a bit more structure and saturation than the other two.
All of Occhipinti's vineyards are worked using biodynamic principles, and the work in the cellar is careful, never pushing the wine, but letting it take its time. Natural yeasts are employed, there is no temperature control, no fining or filtration and minimal SO2 at bottling.
Arianna Occhipinti is the niece of Giusto Occhipinti of the COS estate in Vittoria, south-eastern Sicily. Her wines have been featured in these pages. Here you can read one of several mentions of her wonderful entry-level red SP68.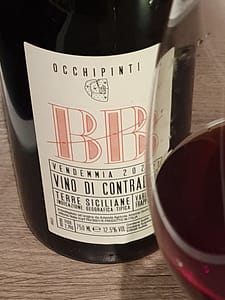 Vino di Contrada BB 2019 (A. Occhipinti)
Clear red. Red fruits (raspberry, sour cherries), blackberry and an earthy note. Medium-bodied, concentrated, fine tannins, fresh acidity, a slight volatile touch and a long, salty finish.
Price: High
Food: Creamy pasta, light meat, antipasti