Philippe Pacalet is one of the most talented négociants. Operating from Beaune since 2001, he works with growers from many parts of Bourgogne. He is not the type that buys in wines, but he works closely with the farmers, giving them his advice, buys the juice and follows and elevates the wines, so that he can put his stamp on them with his greatest confidence.
He tries to minimize the use of sulphur (and only before bottling), but his wines are still ageworthy. He never uses new oak, so there is never any disturbing oakiness.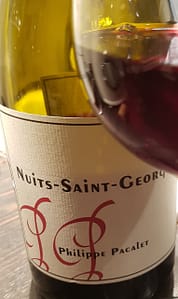 During the latest years he has been looking outside Côte d'Or, such as Cornas, and he has even bought his own vineyards in Chénas and Moulin-à-Vent, Beaujolais.
He was the one who helped Fanny Sabre out in the beginning (read more here).
Nuits-Saint-Georges 2016 (Philippe Pacalet)
Cherry red. Mature red and dark fruits (blackberry), mineral and tobacco. Some tannin, fresh, concentrated and long.
Price: High