Bingen is maybe most mostly associated with Hildegard, the great composer, mystic, abbess that founded a monastery there nearly a thousand years ago. This improvised title bears more associations to the old jazz masters. But anyway: It is here, on the Nahe estuary in Rheinhessen, that Carolin and Erik Riffel have their home. Since I got to know them I have admired their wines. The organic Riesling Trocken is as stylish as it gets, the silvaners well-made, the pét nats (such as the scheurebe) truly inspiring. With this wine they go one step further, with a more un-tamed, naked orange wine.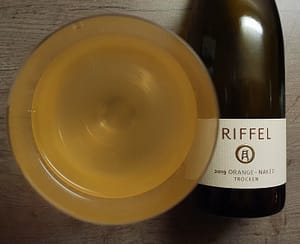 But it's only natural. As long as I have known them they have talked about their passion for the nature of wine, for their place and for the vintage in the glass. They intervene as little as possible, giving the wines the time they need. Today they have 16 hectares on quartzite soils, farmed biodynamically.
The orange wine is made from equal parts sylvaner and gewürztraminer. They are handpicked, and destemmed, fermented on skins for two weeks. Parts of the wine are matured in barriques, the rest in steel and with six months on fine lees.
Orange-Naked Trocken 2019 (Weing. Riffel)
Golden colour, slighly turbid. Aroma of mature apples, pear, flowers, and a nutty hint. Smooth tannins in the mouth, good acidity, and though full flavours and a good lenght it is also a pure fun wine.
You are advised to turn the bottle upside down before opening, to get the full intensity from the yeasts too.
Price: Medium
Food. Asian dishes, light meat, tasty fish, many kinds of salads…