I have taken a two day break from my seaside city holiday in Málaga. We are now trekking in the mountains. And we, we are my friend Jan Inge Reilstad (writer and culture activist) and me. I thought I'd give you some main lines in a postcard format, before I go into more detail later.
First of all I must say a big thanks to all the kind and lovely people who set their work on pause for a while to welcome us, after having given them a very short notice!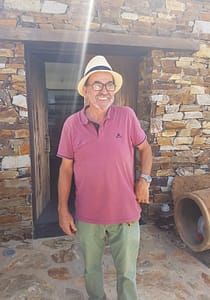 Manuel Valenzuela
First stop was Barranco Oscuro, outside Cádiar in the Alpujarras. I have met Lorenzo Valenzuela many times and many places, but it must be ten years since my latest visit to the winery. This time it's his father Manuel who welcomes us. He shows us around the premises, before we end in a room to taste some wines.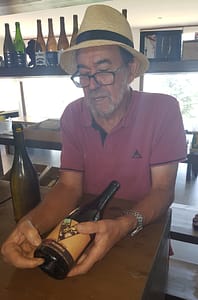 We can't help notice the wordplay on many of the labels. Tres Uves resembles the Spanish expression for three grapes, but what it really means is three V's. And aptly enough the wine is based on the varieties viognier, vermentino and the local vijiriega. It's obvious that Manuel has great fun talking about this. And he tells the story behind the labels, one by one, ending with the Salmónido, with the subtitle rosado a contracorriente, meaning: rosé against the stream.
And when you think of it: It's not only the salmon that is going towards the stream. The Valenzuelas started to make natural wines without any additions or corrections at a time when few others did. Manuel Valenzuela is by most regarded as one of the true pioneers of Spanish natural wine.
Everything we tasted was expressive and full of energy; like the Art Brut 2017, a sparkler made according to the ancestral method, the yellow fruit-packed viognier La Ví y Soñé 2017 and the always lovely cherry fruit-dominated Garnata 2012 (obviously from garnacha). For those interested in ampelography (the study of grapes), the La Ví y Soñé has now a small percentage of vijiriega negra, a very rare variety that the white vijiriega once mutated from. We ended the tasting with two vintages of 1368 Cerro Las Monjas, whose name refers to the altitude of their highest vineyard (until recently the highest in Europe). Both were very much alive. Vintage 2004 was a bit reduced, cherry red, showed red and dried fruits, and a good acidity, and a slightly dry mouthfeel. The 2003 was a bit darker, with dark cherry dominating the aroma, and a rounder palate – and still more years ahead. (Read my report about the 2002 here.) A terrific bonus was Xarab, an amber coloured wine from the pedro ximénez (PX) variety, with aroma of apricot, figs, a touch of raisins and a balanced acidity. Manuel had showed us a barrel of the wine in the cellar. At this point it had been fermenting for three years (!).
High altitude vines grown organically and unirrigated on schist and clay soil
After a lunch in the centre of Ugíjar, rabbit and chicken with a dark, meaty nameless Cádiar wine, we continued our short road trip. Just outside Ugíjar we were met by this signpost.
I visited Dominio Buenavista around ten years ago too. Nola, from Dayton, Ohio has been through tough times since her husband Juan Palomar passed away last year. They both used to travel between the two countries. Now she has been forced to stay in Spain to look after the domaine, and continue the work just the way her beloved husband would have done himself.
Nola makes it clear that she wants to have control over the end-product. Therefore the wines can be said to lack the "savagery" of Barranco Oscuro. Their wines called Veleta (the second highest peak in Sierra Nevada, but also meaning weather-bird) are well-made, and their followers in Spain, the US and elsewhere know what to expect. -Natural yeast scares me, Nola says. So she relies on cultured yeasts, and hesitates to go completely organic. But the amount of sulphur is low, and added only following the harvest. In the cellar we tasted some red samples, from tempranillo and cabernet sauvignon (2018), and cabernet franc (2014), the grapes that make up Noladós, one of their signature wines. There was also a promising graciano (2016).
Should I pick just one wine it would be the Vijiriega "Viji" 2017, a fruity and mellow wine with apple, citrus and herbal notes.
We decided to see if there were room for the night in Trevélez. This is the second highest municipality in Spain at 1.476 meters, a place with thin air, good for curing of the famous Trevélez hams. So we climbed the steep slopes, and Jan Inge maneuvered the car through the narrow streets of the town. At last we found a room in the highest hotel of Trevélez.
Hams hanging in the restaurant where we had dinner
Next morning, continuing over the province border to Málaga, we arrive in the village of Moclinejo, as we enter the historic Axarquía landscape. Here we met Ignacio Garijo. He represents both the well-known Bodegas Dimobe, a family company that dates from 1927, and the new project Viñedos Verticales. The director is Juan Muñoz, one of three brothers. We can maybe say that stylistically, at least philosophically, these wines fall in between the two producers from yesterday.
Dimobe's highest vineyard: Moscatel de Alejandría on slate and stone ground. These are 50-60 years old, while average is 80-90. On the north side of the hill there is moscatel for dry wines, on the south side moscatel for sweet wines picked a little later
Ignacio and Jan Inge looking south
Dimobe was dedicated to sweet wines, as was the tradition in Málaga. Around 2001, when the DO Sierras de Málaga was established as a means to meet the challenges and demands of modern times, they started to incorporate dry table wines in their portfolio. Pepe Ávila (Bodegas Almijara, of Jarel fame) and Telmo Rodríguez probably made the first dry moscatel in the area in 1998 (I visited them in 2001, I think), and since the new regulations came many more followed. Now it's the norm, and one can wonder about the future of the traditional sweet and fortified wines.
Dimobe owns 5 hectares and controls 38 in total. All viticultors work the same way: Harvest by hand, sulphur as the only chemical product, and organic farming (though not certified). This is easy: -In 40 years we have only had two mildew attacks, in 1971 and 2011.
The old part of the winery looks like a museum. But it is also in operation; there is actually wine in the barrels. -There are many seals in here, says my friend. Ignacio explains that it is goat's stomachs, very useful in old times to keep wine from oxidating, from Quijote's time untill much more recently.
We tasted Verticales' four wines first. La Raspa 2018, a moscatel 70% and doradilla wine. The moscatel is aromatic and fresh, while the doradilla rounds it off. It's an appealing wine; light in colour, and typical moscatel aromas of flowers, some herbs, and some citrus (lemon). Filitas y Lutitas 2016 is a moscatel 90% and PX. This is a complex and very interesting wine that you can read more about here. We had a 2018 sample of El Camaleón. The grape here is romé (or romé de la axarquía, to be precise). It's a grape that's difficult to work and that offers little colour. So the colour is light red, aroma predominantly of red fruits, and fine-grained tannins. Ignacio explains that the tannins come from the vat, and they need some time to soften. He also claims that the tannins from the vat help to get some colour, even if I don't see how this could work. Anyway, all these wines come under the DO Sierras de Málaga.
The last Verticales wine is Noctiluca Vendimia Asoleada 2016, that is a DO Málaga and comes from grapes totally dried in the paseros. It arrives 10% alcohol and has never seen any barrel. It's yellow because of some oxidation in the paseros; aroma of apricot, flowers, and some tender sweetness (173 g/L). We went straight over to a couple of wines from the extensive Dimobe range. Señorío de Broches 2017 comes from grapes dried only on one side of the clusters. It reaches 8% natural alcohol, then it's fortified up to 15. It's a fresh wine, easy-to-drink, with the same sweetness at the Noctiluca. Trasañejo is an expression from the old Málaga classification that means that the wine must be at least 5 years old. Pajarete Trasañejo is a naturally sweet wine from moscatel and PX (again with the same sweetness), and one is not allowed to use arrope, the traditional reduced must. Amber or mahogny in colour, nutty and concentrated, with figs and dried fruits. Absolutely delicious.
Time to get back to our rented flat on the beach of Málaga capital. I must also confess that my wife and I had the wonderful sparkling moscatel Tartratos 2015 that Ignacio gave us (for the road), during the evening and night. Yellow, yeasty, tasty; just delicious summer drinking.
Ignacio Garijo
Leave a Comment