This is a wine that I have thought about a long time. I include it here, "for the records", maybe. Because the last thing I did before the pandemia rules were introduced in my country, was visiting the Rawfair, that after all didn't take place.
One of my favourite London wine bars is DuckSoup, of Soho, near two leading jazz clubs, Ronnie Scott's and the Pizza Express. This week's wine was enjoyed there, one day or two before entering a very surprising quarantine indeed.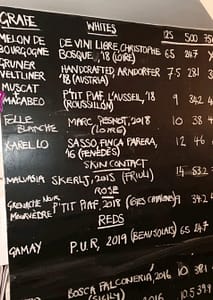 Martin & Anna Arndorfer work very naturally, and stress the importance of the soil. They say they do not feel bound by tradition, but still they emphasize the influence of the vineyard as crucial to their philosophy. And there they maintain the natural ecosystem. Most wines are unfiltered, and sulphur and chemicals are avoided, though they have never certified anything.
This wine is from their Strasser vineyard of 1976, with sandy and clayey soil. Biodynamically farmed, only a total of 20 mg/L sulphur, short maturation in steel, unfiltered.
Handcrafted Grüner Veltliner 2018 (Arndorfer)
Light yellow colour. Fresh, vibrant, with yellow fruits, herbs, almost spicy. Juicy, luscious and light in the mouth, with enough acidity, and finishes dry.
Price: Low
Leave a Comment