Matthias Hager is found in the Kamptal region of Niederösterreich. In Molland, in the northern part of Kamptal, he produces terroir-driven wines from his 14 hectares of vineyards.
I met him in London earlier this year, and here you can read a little more about his winemaking and some of his other wines. He did not bring this wine, but I tasted it when I came home, because it had won a tender within the Norwegian monopoly.
This is a grüner veltliner-dominated wine from grapes grown in loam, loess and schist and aged in old, neutral oak. It is a low-sulphite wine (less than 25 mg in total), unfined and unfiltered, and the 25% skin-fermentation for up to 8 days places it just inside the orange wine category.
Vielfalt means diversity, and the grapes were selected from various plots with different soils.
The picture on the label was painted with self-made earth-colours. As Matthias explains, "The earth comes from our Mollandser sites and was prepared and used for painting in a workshop with Caritas Schloss Schiltern – a dormitory for handicapped people." The one for the Vielfalt was chosen because it shows strength and complexity, just like the wine itself. "For every sold bottle Caritas gets a part for its participation on this project", concludes Matthias.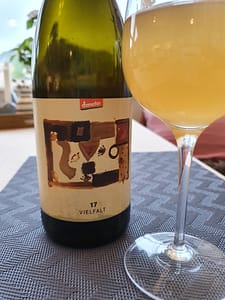 Vielfalt 2017 (M. Hager)
Golden colour, turbid. Aroma of citrus (lime), pineapple, some spice (like white pepper), a bit nutty. Full on the palate, slightly textured, a bitterness that hints to grapefruit, concentrated, long.
Price: Medium
Food: Tasty fish, light meat, rich salads, cheese and ham selections