I went with some musical friends to Vinkontoret, Stavanger. (See also my previous post about the bar.) This is a tradition we have established to shorten the waiting before attending a premiere party for a show (at another place, with a much poorer wine selection).
During the hour or so between the show and the party we had three glasses of wine this time. Vinkontoret (the Wine Office) is a real cathedral of wine, with hundreds of bottles to chose from, and Christoffer Ingebretsen knows more or less what we are after. So we let him chose something, and tasted them blind. The other wines were Heimbourg 2016, a pinot noir from Zind-Humbrecht, Alsace and the Mas la Plana 2015, a cabernet sauvignon from Torres, Penedès. Before this we had this Saumur chenin blanc.
Brendan Stater-West is a young American from Oregon. To make the story short, he was an English teacher in Paris, but had a passion for wine, got married to a French girl, and moved to Saumur in the Loire valley. There he asked the celebrated Romain Guiberteau, whose wines he admired, for a job. Brendan currently leases a one hectare vineyard from Romain, next to his famous Clos du Guichaux in Bizay. It is this vineyard, classified as a lieu-dit, that is Les Chapaudaises. The vineyard's soil is tuffeau limestone with calcium-rich clay and sand, with many seashell fossils. He has recently met a family who owns an old cellar in Chacé in Saumur. He has begun to renovate this old and magnificent cellar.
This is Brendan's first vintage, and as such it is very promising. It's made from indigenous yeast, gently racked from ageing on the lees, and aged for 18 months in old barrel.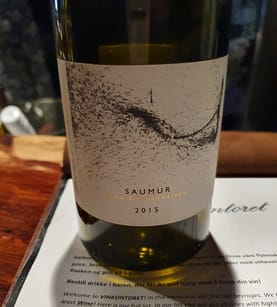 Saumur Blanc Les Chapeaudaises 2015 (B. Stater-West)
Light yellow. Vibrant citrus-fruit (mandarin peel), yellow fruits, some white pepper, and also a touch of sweetness on the nose. Slender on the palate, with good acidity and a salty minerality.
Price: Medium
Leave a Comment