Since my previous visit to Vinkontoret (the Wine Office, see here), a nice place to sample wines in Stavanger, Norway, one of the sommeliers has left. Christoffer Ingebretsen, formerly in charge of the restaurant at the town' concert hall, is now alone. And he is busy, but he handles the crowd, and even remembers most of the wines I ordered two months ago.
Among them were Alsace Pinot Gris 2013 (J & A Ganevat): A Jura producer, but also with some negociant activities, like here, where they control the vineyards. A light yellow wine with aroma of yellow tomatoes, a little raisiny, waxy, and a touch of flor. Full, smooth and quite long.
Yesterday another Ganevat, Champs Poids Chardonnay 2014, a Côtes du Jura, was tested: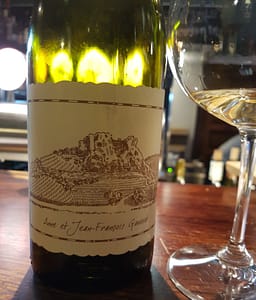 Back to my March visit, a Grand Cru Sommerberg Riesling 2009 (Albert Boxler), was fabulous: Deep yellow. Honeyed, waxy, and herbs on the nose. Full, smooth, and a great acidity contributes to the long finish.
This one was uncomplicated, yeasty and fresh, with a touch of peel and a limey acidity. Côme Isambert 2015 is a quaffable Saumur chenin blanc grown organically chalky, schisty soil and aged on the lees in big barrels. Côme doesn't own the vineyards, but buys the grapes from four different growers and does the rest himself. Pure joy!
Next order: -It would have been nice with some red wine now. Christoffer: -OK, I'll bring you some!
Asking for some red wine I was given this selection 
Clos Mogador of René Barbier is a wine I have followed through many years, here in the 2013 vintage. René here means both father and son. Taken the lead now has junior, who is married to Sara Pérez, that has exactly the same position in Mas Martinet, also in the municipality of Gratallops. Dark, slightly violet; dark fruits, blackberry, rosemary, and a cool freshness; full and warm in the mouth, lots of tannins and a nice minerality.
The rest in brief: Barolo Riserva "7 anni" 2008 (Franco Conterno): Some developed tones; red fruits, lickorice, underwood, mushroom; fresh acidity, evident tannins, but not aggressive. La Guiraude 2015 (Alain Graillot), Crozes-Hermitage. Red, violet hint; fresh aroma, still with youthful charm, red fruits, flowery; in the mouth young tannins, inspiring acidity. Côte Rotie 2010 (E. Guigal): Ruby red with developed tones; meaty aroma, forest berries, some sweet tones (toffee); round, full, well-balanced, maybe at its peak now, but I'm not sure if this is for me.
Worth mentioning from the last visit was also a barbera, La Scarpa La Bogliona 2008, a richly flavoured wine in good balance, with cherry and nuts, and a sweet & sour-like touch.
With the wines I ordered a cheese and charcuterie plate. The cheeses were Swiss, from Burgundy, La Mancha, and Lombardia, and of various styles.
Ok, the visits may seen as a bit of an of an impromptu character, but so what, this is a fascinating place with enough wine to follow your instincts, and many whites can go after a red. Each time at this office is a well worth, rewarding safari – and there's not too much paperwork involved.