It took an ethnographer to discover this old tradition of dessert wines in Rioja. In fact it was Miguel Martínez' interest in this particular wine that brought him into vinegrowing. He first made it in 2012, but it was only after a two year battle against the wine authorities that they accepted it. Thus Miguel's supurao is the first, and at the moment the only sweet wine that comes under the DOC Rioja.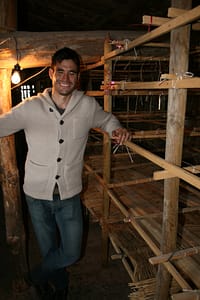 Soon these shelves will be filled with bunches of grapes
Miguel can be found in the small hamlet of Sojuela, his home village, in the slopes of the Moncalvillo mountain range between the Najerilla and Irégua valleys. Miguel says, before the industrialization, men and women from La Rioja went to the vineyards before harvest, picking the best grapes for their own consumption. They were stored on top of the houses, hung in the most ventilated, safe places, stayed there all winter, ageing, concentrating their juices, drying.
In the old days supurao was drunk at celebrations, a tradition Miguel remembers the old folks in his own family talked about. It could also be made in the community, each neighbour contributing with his or her grapes.
For the actual wine the bunches of garnacha and tempranillo were dried in a small shed, with room for 6.000 bunches to make 600 half bottles of dessert wine. It has typically low alcohol (this one is 12%, the previous vintage 9.5), and is light and fresh. After pressing it fermented in steel with part of the skins, then it underwent a slow fermentation, around fifty days, with several rackings, then a couple of months in barrel.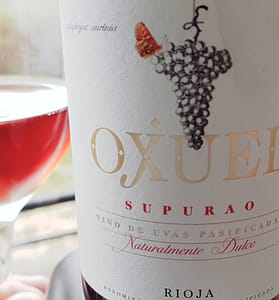 Ojuel is Miguel's village without the first and last letter, the x marks his respect of tradition
Oxuel Supurao 2016 (Ojuel)
Strawberry red. Straight-forward, simple and lovely aromas of mature raspberries, cherries, elderberry, with a sweet touch. Smooth texture, not very sweet and with a fresh acidity to match, there is pure fruit all the way. I barely believe it when Miguel tells it has around 150 grams residual sugar per litre.
Price: Medium
Food: Light desserts, pastries, cheeses, patés