Simplesmente… Vinho is the kind of wine fairs that I love, where you meet only individual producers off the beaten wine track. I have already published a short report from the fair itself, I presented a wine from Dão in my weekly column, one from Algarve, then one from the Açores, and finally one from Douro. I visited Rodrigo Filipe's Humus in the Lisboa region before the fair, and lastly I also prepare an article from my visits in Dão. Here are just a few of the rest.
Minho
Quinta da Palmirinha
Fernando Paiva was one of the pioneers of biodynamic farming in Portugal, in the unlikely region of Vinho Verde, a humid region with a strong Atlantic influence. When looking closer at the map he is based in Lixa, near Amarante in the southern part, not far from Douro. His wines are wonderfully balanced, flowery, and with the acidity in percfect harmony with the rest. The main white grape is loureiro. The Quinta da Palmirinha Loureiro 2016 was oh so light, fresh and citric, with balsamic (pine) notes, and with a fresh natural acidity perfectly well integrated. The red Palmirinha 2016 (vinhão-espadeiro-azal tinto), no sulphur added, was dark, with ink, plums, and aciditywise it was in line with the whites (high but hidden). Paiva is also involved in the Mica project, where four producers are joining forces, making greatly enjoyable wines at a lower price. I liked the 2017, an azal-treixadura-avesso tropic/mellow blend at 17 g/L residual sugar.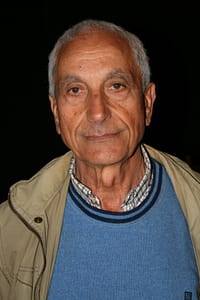 Fernando Paiva
Aphros
Vasco Croft went biodynamic since the beginning, at his farm near Ponte de Lima, where he has 18 hectares, uses own  sheep compost. All wines are made using native yeast.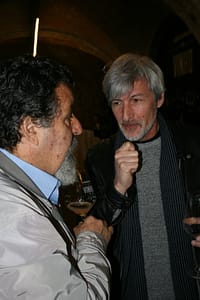 Vasco Croft (right) talking to Brazilian reporter Didu Rosso
Aphros Loureiro 2016 is light, with lemon, flowers, slender, citric, and with a good, steely acidity. Daphne 2016 comes from a different plot, granitic, more rocky (while the others are sandy). It had 12 hours skin-contact, was then fermented in concrete eggs of 1600 liters and stayed there untill bottling. This wine was full, a bit darker, with aroma dominated by apple. Phaunus Loureiro 2016 stayed 6-8 weeks in amphora, with olive oil on top. The colour was yellow, towards orange; with that white flower aroma that amphoras can enhance; quite full on the palate, somewhat richer, and with a pleasant structure. Phaunus Pet-Nat 2016, bottled while still fermenting; yellow apples, some citrus, and good acidity. The Rosé Vinhão 2017 (sample) had a cloudy peach colour, and a promising acidity. Phaunus Palhete 2016 is a fresh and lovely amphora-elevated wine, made from both red and white grapes  with skin-contact for 6-8 weeks. I will come back to this in a wine-of-the-week post. The Vinhão 2017 was pressed by foot, fermented by itself, and no further extraction: Dark, with a violet hue; dark fruits, blackberry, flowers, raspberry, and decent acidity. Lots of character and energy!
Galicia
Over the border to Spain, and two Galician wines we tasted at the DOP restaurant, run by the celebrated local chef Rui Paula.
Finca Teira 2014 (Manuel Formigo) comes from the inland DO Ribeiro: It's made from godello, treixadura and torrontés. The wine is light yellow; a little buttery, mineral, with darker citrus (orange/mandarine); broad, full on the palate, with the acidity to match. Traste 2015 (José Aristeguí) is another inland Galician wine, this time from Valdeorras (neighbouring the Castilan region of Bierzo). The grapes are garnacha tintorera (alicante bouschet) and mencía. Dark; rich and warm (15% alc.), hints of morello, and some coffee; tough tannins, the alcohol shows again in the finish, but it's not without charm either.
Trás-os-Montes
Romano Cunha
Here we are talking about a collaboration with Raúl Pérez, especially known from Bierzo, Spain. These are stylish wines. Mirandela 2015 (from Tras-os-Montes north) is a white field blend of moscatel-malvasia a.o.: Pear, citrus; quite full, good acidity. Tinto 2010 from tinta amarela, tinta roriz and touriga nacional: Dark; very fresh for a 10, red fruits, good structure.
Mario Cunha
Among the rest from this region the following stood out. Quinta de Arcossó Reserva 2009: Dark colour; dark fruits (morello, blackcurrant); powerful, evident tannins, some alcohol in finish.
Douro
Conceito
Rita Marques has impressed for some years with remarkably elegant wines for a hot region like Douro. Near Vila Nova de Foz Côa in the Douro Superior her ranges are called Contraste and Conceito, and she also makes some port.
Contraste 2016 from various grapes: Light; very fresh, citric, herbs; luscious, soft and natural, with an integrated acidity. Conceito 2016, fermented in barrel, a field blend: Light; white flowers, peach, some vanilla, honey; full on the palate. Ontem (=yesterday in  Portuguese) 2016, Terras de Beira, in other words from outside the Douro. The grape varieties include encruzado and rabigato, and the soils are granitic. It's a flowery, fruity, full wine with vibrant acidity and evident mineral tones.
Contraste 2015: Cherry red; red fruits; soft, some tannnin structure. Conceito 2015: Dark colour; dark and red berries, some vanilla, mint, some toast, but fruit-driven nevertheless. Legítimo 2016: A carbonic maceration wine: Purple, violet; dark fruits, pepper, a bit lactic; young tannins. Outem 2015, a wine made from baga 60-70%: Bright red; some green pepper, raspberry; cool and fresh, and some structure.
Rita and Manuel
Dona Berta
The Verdelho family is found near Vila Nova de Foz Côa too, and I have tasted many of their Dona Berta wines through a mutual friend. The wines, made by professor in oenology Virgilio Loureiro, I have learned to recognize as well-made wines, more robust than elegant. They are proud of their rabigato, and deservedly so. The Rabigato Reserva Vinhas Velhas 2016 made in inox was full and creamy, with notes of citrus, nuts, wax and melon. Among the other wines worth mention were first Sousão Reserva 2013, dark and fruit-driven, juicy with some spice and lickorice. Then the Reserva 2013, an "entry-level" blend: This is a fresh red, with notes of red berries, plums, an earthy touch, but with a quite elegant structure. Tinto Cão Reserva 2012: A structured wine with red fruits, blackberries, solid tannins and good acidity.
Quinta do Romeu
This is one of the most northern wineries in the Douro Superior, a really cool place north of Vila Nova de Foz Côa. They work biodynamically, and have organic certification. It's always spontaneous fermentation, and SO2 only after malolactic and before bottling.
Quinta do Romeu 2016: Open, immediate and aromatic, with red fruits and herbs; smooth, glyceric, and a good acidity. Quinta do Romeu Rosé 2016: Light salmon colour; strawberry, gooseberry; fresh, with a good natural acidity. Quinta do Romeu Tinto 2011: Dark cherry red; red fruits; juicy, luscious, cool and fresh on the palate. Quinta do Romeu Reserva 2015: Made from touriga nacional, touriga franca and sousão, fermented in lagares of granite, moderate extraction: Dark red; smells of dark berries, tobacco; full on the palate with a good acidity. Quinta do Romeu Touriga Nacional 2015: Dark, dense, violet; aroma of dark fruits with leather; young and robust tannins. They also make a colheita port.
Folias do Baco
Tiago Sampaio is the winemaker of Folias de Baco, a project he started in 2007. He never forgets the roots and the terroir, but it's always something creative about his wines. And though he can experiment at every stage of the process, the extraction is always very gentle. He is found in Favaios, the traditional moscatel stronghold, in the sub-region of Cima Corgo, and the vines are on schist and granite at an altitude between 500-700m.
Tiago Sampaio
When he came back from Oregon with a degree in oenology in 2007, he established the brand Olho no Pé. The latest editions however, come under the name Uivo.
I tasted a cloudy, fruity and very tasty Uivo Pet Nat from the very early harvested 2017 (started 8. August), a very fresh, flowery Olho no Pé Moscatel from the same vintage, smooth but also with a lovely acidity, and the Olho no Pé Vinhas Velhas 2016, a no SO2, skin contact, barrel-fermented wine with more colour, somewhat tropic, waxy aroma, and a glyceric appearance in the mouth – a wine for keeping.
Among the reds there was the Uivo Renegado Tinto 2017 (a field blend with both red and white grapes, so to call it rosé is maybe better), a little turbid, earthy, strawberry/raspberry, and a tough grapefruity acidity, and the light, transparent Olho no Pé Pinot Noir 2014 with raspberry, full and round. Uivo Tinta Francisca 2016, had a deeper colour, very fruity with red berries and plum, juicy and grapey in the mouth, with a graphitic mineral touch. The last wine I will mention here is the impressive Olho no Pé Colheita Tardia 2012, an orange/amber wine with sweet honeyed bouquet from 100% botrytisized grapes.
Quinta do Infantado, João and Álvaro Roseira
Infantado was the first winery to export directly from the Douro valley in the 1980's, and I visited them twice shortly after. They weren't given first priority in the tasting hall this time, but at the DOP restaurant of Rui Paula we tasted two ports and the Roseira 2011, a project from Joaõ Roseira of Infantado (and Simplesmente Vinho, of course). Dark colour; red berries and forest fruits; good tannins, still young (good with baby goat). Two well-matured ports: the Colheita 2007, a tawny with vintage, had a young, red colour, beginning developement; figs, nuts, berries, elderberry; fruity, not very sweet, long. Vintage Port 1997 (magnum): Very fruity (blackberry), but also with some chocolate, spices and a warm, raisiny hint. Lots of tannin in the mouth, matching acidity, and still fruity after all these years.
Bairrada
Casa de Saima
This was an occation to meet the lovely Graça Miranda again, whom I had not seen since I visited the winery in Sangalhos many years ago. Saima was known as a tratitional producer, and I have still a few older vintages in my own cellar, such as the superb Garrafeiras 1991 and 2001, and I remember a foot-trodden rosé with more than 10 years of age when it was released. But they also embraced the new opportunities that appeared some years ago, with new grape varieties such as merlot.
Graça Miranda
The white Vinhas Velhas 2017 (sample) was light; fruity, with citrus and apples; full, concentrated, good acidity, fresh. I think this will be great in a not too distant future. The same wine from 2016 (a hot year) was waxy and herby, but also with fine flower notes; full in the mouth, with a fine acidity. Garrafeira 2015 (the first garrafeira white), made in old oak with 3 months of batonnage in big 3.000L vats: Darker, more creamy, quite waxy, with a touch of honey, concentrated, glyceric, smooth, and long. Promising.
The Pinot Noir 2015 I found interesting; fruity and saline. Baga Tonel 10 2014 (10 is the name of the vat [tonel in Portuguese], while 14 is obviously the vintage): Light colour; red berries, forest fruits, some greenness; luscious in the mouth, tannins still come creeping, and a good acidity ends it all. Baga Vinhas Velhas Grande Reserva 2014: Grande Reserva means here that it must be in oak for at least 24 months. The wine is cherry red, has some greenness, good fruit, lots of tannins, and good acidity. Maybe a classic Saima with great ageing potential.
Lisboa
Quinta do Montalto
I have known André Pereira of Montalto and Pedro Marques of Vale da Capucha for some years, visited their quintas and met them at fairs, such as the London natural wine fairs. André not only makes good wines, but with an almost unbeatable quality-price ratio. His farm is in Ourém, in the Encostas d'Aire area, some of the vineyards in Leiria, but most of the wines are classified as regional Lisboa.
André Pereira
André is currently experimenting with amphora, coated with natural resin. An clay-aged fernão pires from 2017 (the name is to be announced, possibly something with 'talha', denoting clay wines in Portugal), harvested early, was light in colour; flowery, fresh, fresh, but also nutty and a bit waxy, and full of life. His Medieval d'Ourem 2017 (DOC Encostas d'Aire) is based on an old Ourém tradition. It's defined in the strict DOC rules that it must be 20% red and the rest white grapes (here tricadeira and fernão pires). The 2017 was light red, with a lovely raspberry scent; luscious and round, but also with a citrussy freshness. Although the alcohol is 14,5% (spring was hot and dry) this must be the best "medieval" wine I have tasted from André so far.
A Touriga Nacional 2017, this one also aged in amphora: Dark, violet; aroma of flowers, red fruits, blackcurrant; a touch of tannin, and also a bit warm at 14,5%. As the name suggests Cepa Pura is a series of varietal wines. Cepa Pura Baga 2016 was totally destemmed, put in 50% used barrel, and the rest inox. 2016 was a difficult year here, with a great loss because of rain and fungus. The wine was nice, with and aroma of red fruits, green pepper, cherry, and some spice; fresh and luscious in the mouth, with soft tannins. Cepa Pura Fernão Pires Late Harvest 2015: This is another example of fernão pires' many talents: Yellow colour; aroma of yellow fruits, citrus and honey; semi sweet, rich, and with a good acidity. No botrytis.
Alentejo
One of the big revelations this year was Cabeças do Reguengo. They currently have 11 ha. vineyards, in the north of Alentejo, near the São Mamede national park. Rui Felé tells that they encourage the biodiversity, with man, wildlife, olives, other crops and vines in harmony. The grape harvest is all done in a single day and in the cellar there is very little intervention. The only product used is a little SO2. The wines stay in old oak, and in the near future only black oak – the autochthonous species.
One of the wines that stood out was an orange wine called Luminoso 2016. It's made from arinto, fernão pires and rupeiro, had 10 days skin-contact, no SO2. The colour is orange/amber; aroma of peel, nectarine, mandarine, a touch of honey; full, structured (tannin), and fruit all the way. The red Felisbela ("my mother", says Rui), no SO2: Dark cherry; dark fruits, blackcurrant, forest fruits; a bit carbonic, a feature that matches the slightly warm fruit. Courelas da Torre 2015, aragonêz, trincadeira, alicante bouschet: dark; mature fruits, blackcurrant, round, full, some lickorice. There was also a pleasant rosé, quite dark and with some structure: Courelas da Torre Rosé 2016.
Under the Cabeças label came wines like Equinocio 2015, aged in mainly old wood for one year: Some butter, nuts, and full on the palate. Seiva 2014: Red and dark fruits, concentrated flavours, long. Solstício 2015, made with whole bunches: Dark colour; wild fruits; rich and a bit tannic.
Quinta do Mouro
Quinta do Mouro is one of the famous producers of Alentejo, based in the northernly Estremoz, and one of the few (maybe together with Herdade do Mouchão) who strongly believed in the variety alicante bouschet at a time with castelão (locally called periquita) was popular with both producers and local wine authorities. I meet Miguel Louro father and son, the father fronting Mouro and the son both this and his own project. Mouro is about as good as Alentejo gets, and they have a freshness that is difficult to achieve if you're not located near the mountains in the Portalegre sub-region. So here are a few, only briefly described (partly because I visited them late in the evening when the crowds came in and the music was turned louder, and I actually was "on my way" back to the hotel for a rest).
From Miguel junior's project Apelido 2016, a fresh and clean white, a wine with the 1 o (primero =first) symbol), Nome 2016, full, rich on glycerine, with good acidity, and Apelido 2015, a dark, fruit-driven red, also with some earthy notes.
Some brief notes on the Mouro range too: Zagalos Reserva 2013: Dark colour; wild fruits, blackcurrant, blackberry; full in the mouth. Quinta do Mouro 2012: Dark; red and dark fruits, balsamic (menthol); full and complete. Quinta do Mouro (Goliardos) 2012, a wine made with some cabernet in the blend, various types of oak, in collaboration with the Goliardos (see an interview with Silvia here): Very dark, dense, almost opaque; still cool fruit, balsamic: a lot of tannins, but not aggressive at all.
Miguel Louro, father and son
Leave a Comment