This year I haven't tasted as many of the new Beaujolais as usual. It's the first time I have tried Thivin's Nouveau, though I already knew several of their other wines.
Thivin is one of the top domaines in the Côte de Brouilly, Château Thivin is built on an ancient volcano back in the 15th century, thus one of the oldest. Claude and Evelyne, third generation of the Geoffray family, are now managing the estate with their son Claude-Edouard. They encourage biodiversity planting herbs and flowers between the rows of the more than 50 years old vines, plowing regularly and using natural composts to keep their vines healthy.
The vines for this cuvée are trained in goblet. The grapes are handpicked. Semi-carbonic maceration is used for extraction of the fruit, and the vats are handled by gravity to ensure gentle production.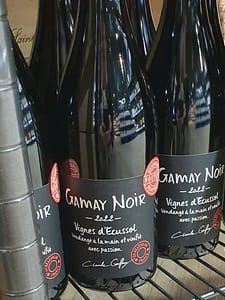 Gamay Noir Vignes d'Ecussol 2022 (Thivin)
Red with blueish hint. Very much raspberry, plus some currant, fresh and young, with some structure and a nice acidity.
Price: Low