This is a followup to the Beaujolais article last Friday. Today I came across two wines made by Pierre Dupond. One of the twins showed freshness and elegance, while the other was more bold and ripe. We will come back to that, but first a look at the background.
The Dupond family has its roots in Burgundy and the Rhône Valley. It began with Antoine Dupond, who was originally from Beaujolais, but began commercializing his wines in Lyon and St. Etienne in the 1860s. His son Joanny expanded the family's estates to the Rhône area. Hervé Dupond, fifth generation, is today leading the business. Hervé has expanded production, building partnerships with nearby winegrowers and neighboring families that the they have known for generations. Each year Hervé selects the best possible plots to make his wines. A traditional method of winemaking is practiced to ensure wines produced are reflective of the land. Ageing takes place in concrete vats that allow for ideal temperatures.
The gamay grapes were handpicked and underwent carbonic maceration with indigenous yeasts. These are natural wines, both with low sulphur (one with nothing added). One is with minimal filtration, one without. To sum up: Sans Soufre Ajouté is the most fresh/acidic of the twins, while Non Filtré is the most ripe and fullbodied wine. Both are highly recommended.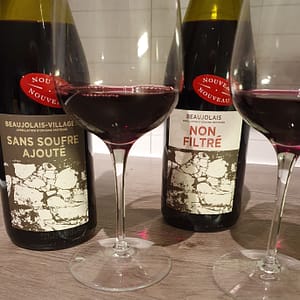 Beaujolais-Village Sans Soufre Ajouté 2022 (Pierre Dupond)
Dark red, blue hint. Cherry, raspberry. Medium body, fine-grained tannins, fresh acidity.
Beaujolais Nouveau Non Filtré 2022 (Pierre Dupond)
Dark red, blue hint, a touch more dense than the other wine. Blackberry, eucalyptus, chocolate/coffee earthy tones. Medium-bodied with ripe fruit, a bit structured (more than the other wine), rounded acidity.
Price: Low