Tiago Sampaio is the driving force behind the Folias de Baco project. The name is mainly associated with his winery. But there is also a wine bar with that name in the center of Porto. Tiago delivers the wine, in fact they only serve his wines. I went there during the Simplesmente Vinho wine fair, together with my friend and colleague wine writer Paul Op ten Berg, a former sommelier from Den Haag.
They serve delicious small dishes, mainly torricado, with toppings of choice. Torricado is a Portuguese form of bruschetta, toasted over charcoal, soaked in olive oil, with garlic and salt). They also have set menus, under the "Flavours of Douro" designation, and a vegetarian option too.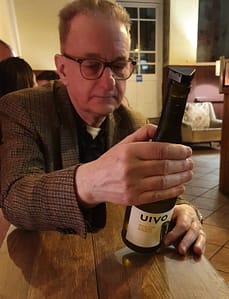 I will come back to my visit to the producer. Today I just want to bring your attention to an extraordinary wine that can stand as a prime example of the new wave of Douro wines that are coming now; low alcohol, fresh acidity, high energy.
It's made mostly from the moscatel galego grape, a local version of the muscat à petit grains. It originates in the family's high altitude schist soils in Alijó. The 2019 had just arrived in the bar when it was served us.
Uivo Moscatel Galego Branco 2019 (Folias de Baco, Tiago Sampaio)
Yellow colour. Aromas of white flowers, peach and lemon-balm, but also with some minerality. It's dry, with a lovely integrated natural acidity, and pure flavours all the way. This is a vibrant high-energy wine. Truly inspiring.
Price: Medium
Food: We had it with the Douro plate that included toast, olives, cheeses and charcuterie, but should go to a variety of salads, fish and shellfish and much more