I tasted this at one of the cosy wine bars at London's Borough Market, Flor, that has the same owners as Lyle's of Shoreditch.
Flor is also listed as a bakery. And they are noted for their delicious breads, that some will think are burnt, but is made from a special flour that makes the colour very dark. I had the wine with this bread, and mussel flatbread dish.Valfaccenda is a small winery located in Roero, Piemonte. Luca Fcccenda and Carolina Roggero has 3,5 hectares under cultivation and make tjdgp wines with as little intervention as possible.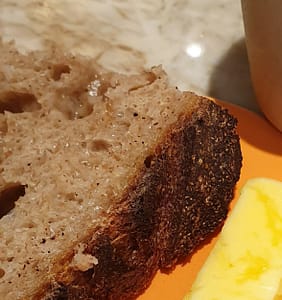 This wine is solely from arneis grapes grown on the hills around the winery, from different vineyards with different expositions. The ones with south, east-south exposition has a soft maceration that lasts for up to 10 days on skins, then oak and acacia ageing for 6 months. The north-west and north-east is fermented in concrete and steel. In the spring, after malolactic fermentation, they blend the two wines and bottle it without filtration.
Valfaccenda Roero Arneis 2018 (Valfaccenda)
Light straw colour. It's fresh, with a flowery, herby aroma with some citrus. In the mouth it has a crisp acidity, saline notes and a slightly bitter finish.
Price: Low