This week's pick was tasted yesterday at Vinkontoret, Stavanger (read more here or here), and was one of their Coravin selections that you can buy by the centilitre.
Nikolaihof is one of Wachau's leading wineries, and an Austrian biodynamic pioneer (and has also been featured here). Its history can in fact be traced back almost 2.000 years to the Roman fort of Favianis AD 63.

Their wines can be closed as young, but with age they fulfill all the aromatic potential that you can appreciate in this wine. This is because the Saahs family refuses to use enzymes to "open" them up, as a contrast to the many producers who like their wines to reveal their full potential in the first year.
All wines are made without added yeast and without temperature control. The Vinothek 2000 was bottled in 2016. Before that it spent 16 years in big 3.500 liters barrels.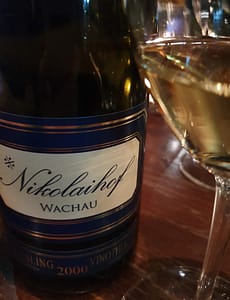 Vinothek Riesling 2000 (Nikolaihof)
Yellow with brownish hints. The aroma plays with oxidation, and has at first some mature apple character, that gives way to apricot and honey. You also get a touch of a flinty minerality, and it's a bit oily and waxy too. Very long, concentrated taste that includes mature citrus, minerals, wax again, and a lovely natural acidity that binds it all together. It has many years of life ahead, I would say.
Price: High