Last evening in Madrid: I haven't been to the Asturianos restaurant since many years, when I had a tasting of Gredos wines with Belarmino Fernández. Belarmino's family runs this restaurant in the Chamberí neighbourhood, and he is also in charge of Bodegas Canopy in Méntrida (Toledo province, at the foot of the Gredos mountains) together with his friend Alfonso Chacón.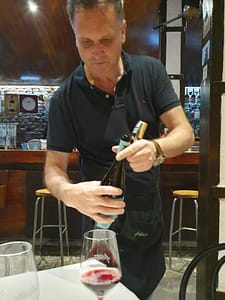 I had celebrated and good wines like Esporão Reserva Branco 2021 (Alentejo) and Predicador 2020 (B. Romeo, Rioja), of which the restaurant is a distributor, and also Canopy's varietal syrah Malpaso 2021. Still, when sommelier José Antonio offered me a tasting of their garnachas, this was unquestionably the highlight of the evening.
Belarfonso is put together from the names of the two owners of the bodega. The wine's origin is in El Real de San Vicente where old garnacha grows in granite soil. It underwent a pre-fermentative cold fermentation, before a malalactic in oak, and spent a short time in French barrels of 500 and 700 liters.
Castillo de Belarfonso 2019 (Bodegas Canopy)
Garnet red. Cherry, herbs, scrubland and a typical ethereal note. Fresh in the mouth, well-integrated tannins, some earth and a hint of coffee and black pepper.