The savoury pudding called Haggis (containing sheep's heart, liver, and lungs) has found its followers among Scottish immigrants in many countries, not least Australia.
Patrick Sullivan and his wife Megan are winemakers in Strezleki Ranges in Gippsland, Victoria. After traveling in Europe for two years, Patrick returned to Australia to study winemaking, but soon discovered that he didn't want to follow the principles of his oenology studies. Instead he took a different turn, and started to study viticulture with botany, as he strongly believes that wine is made in the vineyards.
Currently he buys grapes from organic or biodynamic growers, but his dream is to have his own. In the cellar there is a low-intervention mentality so that the grape material can express as much fruit and origin as possible. All grapes are hand-harvested, a large proportion of whole bunches are used, spontaneous fermentation in used barrels, cement eggs or fiberglass tanks, long skin contact and ripening in neutral containers. Before bottling, there is no filtration and minimal use of sulfite.
This aromatic wine is made from a wide variety of grapes, first moscato 50%, sauvignon blanc 10%, sémillon 10%, and also the reds pinot and malbec with 10% each. Then after the skin-contact a 10% of chardonnay is added also. It's obviously bottled unfined and unfiltered.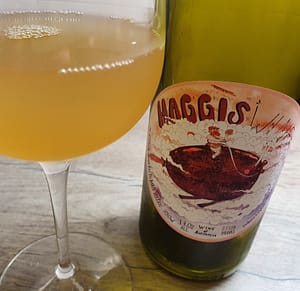 Haggis 2018 (Patrick Sullivan)
Light orange colour, a bit turbid. The aroma has typical muscat notes, here including orange blossom, yellow apples and fresh herbs. Luscious and fruity in the mouth, some volume and a light tannin structure.
Price: Medium
Food: The first one to try it with haggis: Tell me how it worked. I have a strong belief that it works.