Raw Wine brings a lot of activity also outside the fair itself. The day before Raw Wine I had the pleasure to attend a tasting at Café Josephine in the Amager neighborhood of København. It was organized by importer Christopher Melin of Melin Vin, who has an impressive portfolio. Here follow just a few highlights among the many magnificent wines and makers.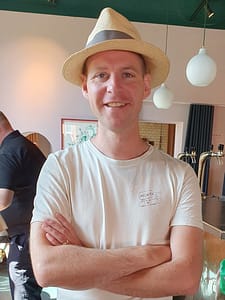 What could be more appropriate than to start, like I did last Saturday, at the table of two Danish brothers. Poppelvej is Uffe (winemaker) and Jens Deichman who run their estate in McLaren Vale, South Australia. From organically and biodynamically tended vineyards there and in the neighbouring Adelaide Hills, they produce wines in a natural way, with little or no use of sulphur. Poppelvej is the name of the street in Denmark where the brothers grew up. SommerNat Pét Nat from mourvèdre came in two vintages; the 2022 had a light peach colour and was very fresh, berry fruity and with herbs, while the 2021, with longer time in concrete eggs resulted a bit creamier and fatter in texture. Irresistible Impulse 2022 is a sauvignon blanc fermented in barrel and aged on lees for 10 months. It's light and turbid in appearance, with notes of apples, passionfruit and herbs, good volume, textured, with crisp acidity, and with a slight bitterness in the finish. Lastly, Lille 2022 is based on the northern Italian grape teroldego. It's quite dark with a blueish hint, dark and wild fruits, some spice and earth, with a light sparkle.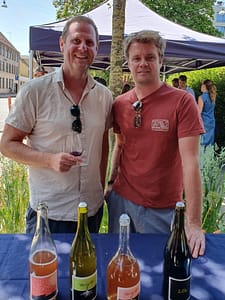 There were three Italian producers in the "garden party" of Café Josephine organised by Melin Vin (see previous post). Ampeleia is located in the Maremma region of Toscana, specifically in the medieval town Roccatederighi. Under manager Marco Tait they converted to organic and then biodynamic. Francesco Pascucci brought to this tasting a personal trebbiano-dominated blend (with ansonica and malvasia) simply called Bianco di Ampelaia 2022. It's a light orange wine with a nice dried fruit character that adds complexity to the fresh fruits and orange peel aromas, and with a light structure in the mouth. He also presented a delicious blend in one litre bottle aptly called Unlitro 2022, easy to drink with fresh fruits, herbs and some balsamic. Alicante Nero 2017 is a wine with personality and depth; light and fresh red fruits, but underneath a layer of herbs and earth, and with a delicate structure. Their emblematic cabernet franc wines were offered at the fair itself, if I got it right.
There were two producers from Veneto. Alex Della Vecchia is winemaker for Costadilà in prosecco-land north of Venezia, but he also has his own project called Ombretta. Simone Ambrosini's Indomiti is found in Colli Berici, Vicenza.
Alex Della Vecchia sources grapes from the family's vineyards in two municipalities. For his Grinton label he also uses organic grapes from friends elsewhere in Italy. Here in the current vintage Alex showed an easy-drinking, delicate pinot bianco and a more structured, reddish skin-contact pinot grigio. A wine with a tremendous personality was a cabernet franc pét nat. (I must ask Alex about the name, so stay tuned!). The colour was light red with fine bubbles, an aroma of flowers, peel and a sweetish hint, and in the mouth it was tasty, concentrated with a raisiny touch. The wine had been made from passito (dried) grape juice, Alex informs.
Simone Ambrosini tells a story about him as a young man travelling to Australia, in search for harmony and the good things in life, more or less at random. Among other things he learns to love wine. Back in Italy he embarks on studies in enology and viticulture. After working with several wineries he decided to set up his own, with "a wallet full of ambition", as he puts it. This was as recently as 2018. Now he rents old vineyards that he has restored in Colli Berici, his homeland. These vines, now brought back to life, are the "indomiti", the indomitable ones that gave name to his project. Mistica was a lovely garganega 9 month skin-contact wine with good structure to the primary fruit. I tasted two wines with tai rosso. The varietal Osai 2021 rosé shows delicate raspberry aromas, and in the mouth there is a cool acidity running through an otherwise round and fleshy body. Opplà 2021 is an uplifting pét nat rosé, where the tai rosso is accompanied by garganega, pinot bianco and sauvignon blanc. It's light orange, aromas of white flowers, peach and a touch of orange peel, and in its lightness it's full of flavours and with a refreshing integrated acidity.
Two German producers were present. It's always a pleasure to taste the outstanding wines of Brand Bros of Bockenheim, Pfalz. These are made in full respect of the terroir, without additives, unfiltered, and always full of freshness and energy. This is the first time that I have met one of the brothers, Jonas Brand, who guided the guests through part of their portfolio.
I have had their charming Wilder Satz in many wine bars throughout Europe. The 2022 is different though, as 18 hours of skin-contact gives it more colour and structure than before. It also has good volume and appears quite grapey, and with lovely scents of citrus (clementine), flowers and some balsamic. Jonas brought two magnificent magnums, a non vintage Riesling (with that name) and Monastery 2016. The latter was light yellow in colour, with concentrated aromas of yellow fruits, some balsamic, and on the palate good acidity and wonderful balance. Add to this super pét nats, reds, among them a brilliant Cabernet Franc 2015, and you get the picture of a great producer.
Unknown to me was Glow Glow of Nahe. Pauline Baumberger runs it with her brother. Pauline showed various fresh, lovely uncomplicated whites from riesling and gelber muskateller, a relatively dark dorenfelder/regent, and more. Here we focus on the Spätburgunder 2022, that has all the young virtues of the white wines under a coloured cover. Made partly with carbonic maceration and short skin-contact it appears as a light rosé-ish wine with red fruits on the nose, and with a delicious natural acidity wrapped in a rounded body.
It seems to be no end to the list of interesting producers coming out of the ancient and historic wine country of Georgia. Andria's Gvino I had never heard of, but now it's not easy to forget. The winery is located in the Kakheti region, not far from the capital Tbilisi. They make their wines in the traditional and natural way, in qvevri, without additives and without filtration.
Winemaker George Wolski and his wife Tako showed me their main line and also the wines that come with the Château Khashmi label. There was a number of beautiful amber and red wines, of which I will only mention two. Their Mtsvane had lots of character. The colour was light amber, with aromas of mature citrus, orange peel and a touch of marzipan, and in the mouth it was rich and structured with a touch of raisins. George tells that the must spent five days with full skin-contact in qvevris. The Saperavi Khashmi 2020 comes from a 40 years old pre-phylloxera vineyard. Saperavi is fascinating grape that often has an impressively dark colour, but is still highly drinkable. This one is not among the darkest and has a blueish hue. I find it quite flowery with dark fruits (boysenberries), plums, some earthiness, and in the mouth it's fresh and juicy, with some tannin, and overall it's very appealing.
Leave a Comment