This wine I tasted at the Real Wine fair of London quite recently. Gentle Folk are Gareth and Rainbo Belton, who have seven hectars in Basket Ranges of Adelaide Hills. They farm their grapes are organically in the vineyard, and in the cellar all treatments are gentle, and with little or no additions.
Blossoms has traditionally been a merlot-based blend. But this year a change has been made: It has now become a varietal pinot noir from Norton Summit, not far away. This is a new vineyard for them, planted 25 years ago, and organically from the very first day. Whole bunches are gently pressed, before a short maceration.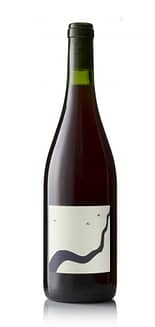 Blossoms 2018 (Gentle Folk Wines)
Light cherry red. It's full of red fruits (raspberry, strawberry) and flowers. In the mouth it is light, with a crisp acidity, but it has a surprisingly concentration of flavours. It's honest and clean, bangs no drums, but lightly chilled it's in perfect harmony on a mild summer's day.
Price: Medium