La Casa del Perro is a hidden gem in the historic centre of Málaga. Here the couple Ana and Fede serves small well-elaborated dishes to be paired with delicious natural wines.
We visited several times during a couple of weeks and enjoyed a great variety of dishes, such as Guacamole with home made nachos, Carpaccio of beef with yellow tomatoes, parmesan and greens, and also a vegan lemon cake made with almond milk.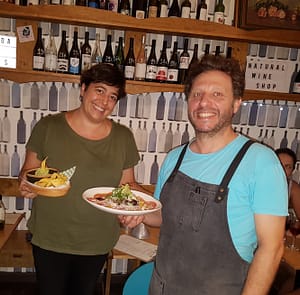 Ana and Fede
But what initially caught my attention were their wine offerings. Many of these are from the leading producers in natural wine field, especially southern ones, like Barranco Oscuro, Cauzón, Torcuato Huertas and José Miguel Márquez (all of whom are presented on this blog). I met Ana earlier this year at the Barcelona wine fairs, and some of the vintners I had marked as "interesting", she had contacted, and some already included. La Zafra of Alicante is an example. La Casa del Perro may not have the biggest selection, but it is indeed an eclectic one.
A little background: Ana and Fede opened their restaurant in the historic centre of Málaga in 2004, and moved to the current location some three years ago. The restaurant's name is a result of a wordplay game started by a friend.
They were both born in this neighbourhood, and both families have lived there for generations. As Ana tells:
-We strive and fight to do what we like, and we are very happy to find ourselves in a neighborhood a bit hidden. We totally disagree with bars and restaurants that receive the passing tourist as if they were cattle. We want the visitor to have a good time and have a desire to come again.
Barranco Oscuro's Ring! Ring! (Riesling)
Among the many wines we tasted during the visits were some new and interesting ones, such as a varietal parellada called Water Fly (Ca Foracaime, and bottled by Celler Portes Abertes in Terra Alta, Catalunya), a light white with an integrated acidity, and Pura Vida 2018 (Vinos Fondón), a promising dark and juicy garnacha rosé from the Almería part of the Alpujarras. From the more established artisans were Marenas Mediacapa xviii (18) (José Miguel Márquez, Montilla), a clean and delicious, light straw, off dry, some co2 wine, and La Pámpana 2018 (Viña Enebro, Bullas), made partly with carbonic maceration, a cherry red, juicy wine with some co2. Then the Ring! Ring! (Barranco Oscuro): Nothing to do with the old ABBA song, but a wordplay on riesling, a light golden, good acidity wine. There were also several editions of La Traviesa, made by the same producer, with grapes from one their neighbours up in the Alpujarras. (Read here about my recent visit to the producer.)
Lastly I want to draw your attention to four wines that really stand out. Either are they interesting takes on traditional themes, or simply of amazing quality.
NU Rosado /3/2017 (La Zafra): This one I mentioned in the beginning, and in an article from the fairs in Barcelona I wrote that the producer was one to watch. This is a monastrell rosé made in four editions, with 0, 3, 5 and 7 months of skin-contact respectively, and only between 2-400 bottles are made of each of them. /3/ signifies that this is the 3 months edition, the second lightest. It's a light and lively wine, salmon pink colour, and smells of red berries (raspberry, strawberry).
Cabrónicus 2017 (Bod. Cauzón): This tempranillo made with carbonic maceration was the pick of the week (read here). It's made east of Granada city at around 1.000 meters altitude, near Guadix. It's pale red, super fruity with raspberry, pomegranate, and a touch of white pepper. In the mouth it's delicious, juicy, fresh and clean, with a long, integrated acidity.

Purulio 2018 (T. Huertas): Here is a very personal wine from the same area as the previous one. It's made from a blend of both tempranillo and French grapes: Dark and dense, and full of blackberry and other dark fruits, along with a touch of coffee and roast, and touch of tannin and a stimulating acidity.
La Veló 2016 (José Miguel Márquez): Another Montilla still wine with the Marenas label. This is a tempranillo grown at Cerro Encinas at 350 meters. Dark, almost opaque, some blueberry, but also plums and some tobacco. There is a lot of tannin here, but it doesn't dominate the fruit.
Ana showing the La Veló in the restaurant's wine shop
Is there a mirror there at the bottom of the casserole?