It's not often that I visit the typical tourist spots on the "costa", although Málaga city is a favourite. But when I became aware that Fuengirola had a natural wine bar I had to pay it a visit. It's easy to jump on a train from the province capital, and at this time of the year Fuengirola was cosy and relaxed, and I must "admit" that there are nice spots in the town center.
The owners of the Tapeo Andaluz also own an ecologic pizza restaurant next door. The tapeo offers a wide array of dishes and a selection of organic wines, around half of them marked "natural" (meaning no additions, not even SO2). We went there for lunch, my wife had two wines from the organic category, and I had three glasses of "naturals". Our waiter, Russian born Tatiane, had a good overview of the various wines and dishes.
Tatiane Smirnove
My three wines were from three great names within the natural wine field of Spain: José Miguel Márquez makes table wines from Montilla (dessert wine stronghold of Andalucía). The two others operates in Castilla y León, Diego Losada of La Senda in Bierzo, close to the Galician border, and Alfredo Maestro several places, this wine near his home in Peñafiel (Valladolid).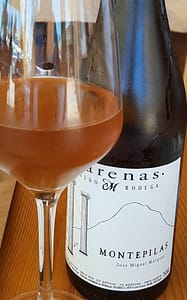 The first wine is made from the cordobés indigenous variety montepila(s). The vineyard was planted in 1998 in a traditional way, and manually grafted, at José Miguel's place Cerro Encinas, at 350 meters altitude in Montilla (Córdoba). You could mistake this for an orange wine, but it's a result of direct pressing. The skins of this grape get dark when ripe, so the colour is natural, with on excess maceration.
Montepilas 2015 (Marenas, José Miguel Márquez)
Deep golden, light brown colour. Mature apples, chamomile tea, and a trace of burned/glaced nuts. Good volume, smooth texture, integrated acidity, finishes dry.
I met the Diego Losada in Barcelona this year. (Read more here.) This is really good, and I would be surprised if his wines will not be much more in demand in the future. 1984 is a reference to Orwell's novel, and 2017 is obviously the vintage.
"1984" 2017 (La Senda)
Cherry red, super fruity, with cherries, plums, medium body, and a lovely integrated natural acidity.
This wine is grown in the heart of Ribera del Duero, but Alfredo Maestro choses to label his wines Castilla y León, to be more free. This is a 100% tempranillo, more than 70 years old vines grown 1.050 meters of altitude. It was fermented spontaneously in steel before 12 months in neutral French oak. Bottled unsulphured and unfined.
Tinto Valdecastrillo 2016 (Alfredo Maestro)
Deep brick red. Dark berries (blackberry), black pepper, some tobacco. Full, good concentration, some dryness and good acidity. Calls for food, like this wonderful acorn-fed pig from the Ronda mountains.