When coming out of the Dingač tunnel a mighty landscape lies before us. Some of the steepest and most dramatic slopes in the world of wine are bathing in glittering light. Here the grapes are hit three times by the sun; directly, from the limestone rocks and from the sea.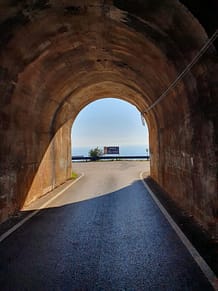 We are in Dingač, the first appellation of Croatia (or rather from Yugoslavia, 1961). And we, we are a bunch of jazz musicians taking a break from the Makarska Autumn Leaves Jazz Festival. Our jazzmobile is parked back at Bartulović (next door to the Kriz winery, see the former post), because here one needs a mountain goat of a car.
Maro Bartulović is one of the pioneers in organic and sustainable farming. The family business got a new start, or a new boost, in 1989, after generations of delivering grapes to the local cooperative.
-We are traditional vintners in the modern world, says Maro. -My kids are the 17th generation.
There are around 3 hectares of vineyards scattered around at 16 different places on the peninsula. Most of the grapes are plavac mali, the equally historic and difficult variety that with its long growing season can't grow further north than Split, according to our host.
Maro showed us the differences between the valley and the Dingač slopes in a very good year like 2018, of which we can only wait. Now we can appreciate the 2017, that was a dryer year. The grapes were picked from 17th August. Still there is a lot of sweetness, which results in a high alcohol. Farming practise is traditional, that is completely organic. Fermentation is spontaneaous and the wines are not fined nor filtered. There is never more than 1.200-1.400 bottles made of this wine.
Dingač 2017 (Bartulović)
Deep cherry red. Smells of red fruit and wild berries (blackberry, elderberries), and balsamic (menthol, eucalyptus), and also with a stony minerality. It has powerful tannins, retains some freshness (maybe from the balsamic notes), and it's a bit raisiny towards the finish.
Price: High
Food: Calls for some powerful meat with a tasty sauce, but stews would be fine, and I imagine that hard cheeses would be perfect