I don't blame you if you have trouble reading or understanding the title of this post. But let us first get the basics clear: Križ is the producer, based in the settlement Prizdrina (Potomje) on the Croatian peninsula Pelješac. Grk is the grape variety.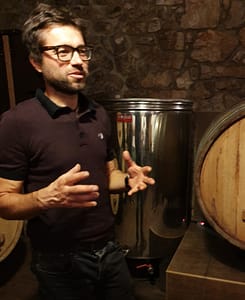 Grk is an indigenous grape, grown mostly on the neighbouring island of Korčula, and to a lesser extent here. There are only 15 hectares of it in Croatia (and the world). The word literally means bitter, but the main characteristics are high acidity, high natural sugar content (because of the sun reflection from the sea), balsamic aromas and saltiness. Although the name hints to a Greek origin, modern studies show that it is a close relative to crljenak kaštelanski (a forerunner to both zinfandel and the Adriatic grape plavac mali).
A special feature is that grk has only female flowers, so to able to produce fruit it needs to be planted alongside another variety. On Pelješac the norm is to plant three rows of grk, three of plavac mali, and so on.
Vinarija Križ
Just a few words on the producer here, that I visited a few days ago together with fellow jazz musicians taking a break from a festival held nearby. Maja and Denis Bogoević Marušić grow 2 hectares of grapes on limestone in the Postup region (plavac mali) and sand on the Križ hill (grk). Some of the vineyards in Postup are very steep (up to 45°inclination), so it has been necessary to build stone walls. They work by hand. The cultivation is traditional, exclusively organic (with some biodynamic practise), and only natural yeasts are used.
Their grk stays 4-7 days on the skins, depending on the vintage, before a one week fermentation. It's matured in old oak barrels (not toasted, to give a gentle treatment). There is no sulphur added, and the total is less than 10 mg/L.
Grk 2018 (Vinarija Križ)
Golden colour towards orange. Smells of mature apples, some citrus (mandarins), pine and figs. Dry on the palate, very fine-tuned tannins and with a fresh, integrated acidity.
Price: Medium
Food: It's very versatile: Fish, shellfish, risotto, pasta, and it performs surprisingly well with tasty meat