Every year 3rd Thursday of November sees the launch of the new Beaujolais vintage. This is nothing less than a 65 year old tradition in the wine home region. This year I haven't participated in any comprehensive tasting, so I went to my local store and grabbed four wines. Luckily the store has a knowledgeable staff, and I could pick from some of the producers that I value the most.
Three of them comes from what have been called the "gang of four" of Beaujolais, producers who followed Jules Chauvet's teachings and decided to avoid artificial fertilizers in the vineyard and sulphur in the wine, so as to better reflect the terroir of Beaujolais.
Here you can read about, and see a picture of Marie Lapierre and Jean-Claude Lapalu. Lapierre's Cambon Nouveau was featured a few years ago too. See here. The regular Cambon was also featured here this summer. The two other wines I bought were from Jean Foillard and Guy Breton.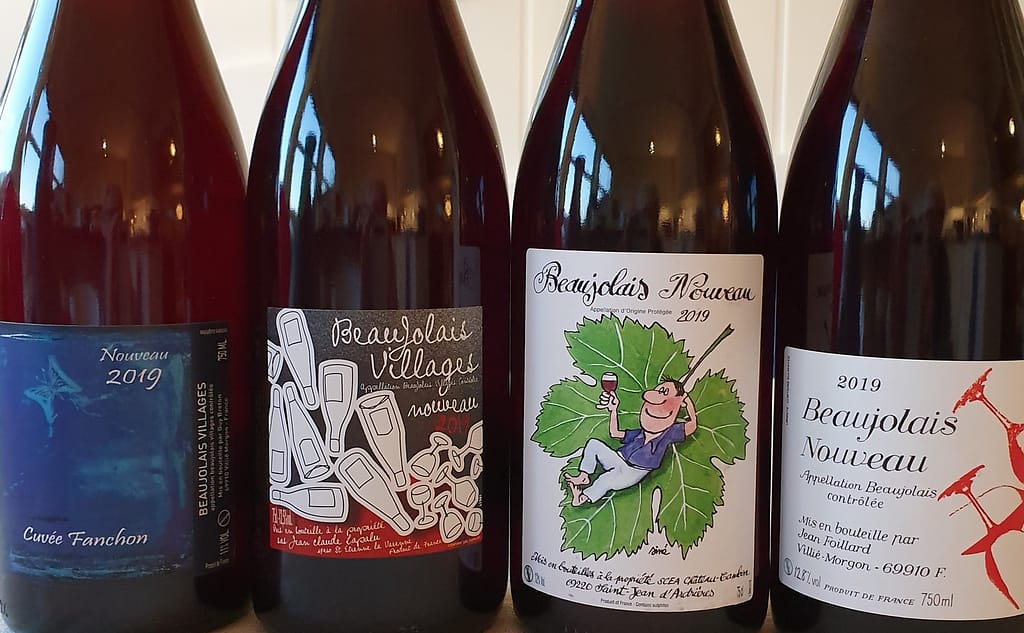 To sum up, the two lightest wines were from Lapierre and Breton (number 3 and 1 from left, respectively) with the former as the most energetic of the two. Foillard and Lapalu (4 and 2 from left) were more "natural", with the latter as the most "wild" and with a good deal of sediments.
Beaujolais Nouveau Cambon 2019 (Ch. Cambon – M. Lapierre)
Ruby red. Flowery with raspberries and cherries. Soft on the palate with just the right touch of acidity. Lovely, elegant.
Cuvée Fanchon Beaujolais-Villages Nouveau 2019 (Guy Breton)
The village here is Villié-Morgon (where Foillard is located). Light ruby. Rhubarb, raspberry. In the mouth it's fresh, the body is very light but still with a touch of tannin, dry finish.
Beaujolais Nouveau 2019 (J. Foillard)
Cherry red. Red berries and something chemical at first – red and black berries after some time in the glass, also a lactic tone. Meaty, juicy, but also some tannin, a touch of bitterness, dry. It's on the wild side; I don't say it's mousy, but it has something funky that's not easy to detect on the nose.
Beaujolais-Villages Nouveau 2019 (J.-C. Lapalu)
Lapalu's village is Saint-Etienne-la-Varenne in Brouilly, a southern location that partly explains the relative power of his wines.
Smells of dark fruits, a touch of raspberry with some lickorice and earthiness. Fresh in the mouth, lightly structured and ends dry. Some carbonic at first, but it disappears with time in the glass. Just like the former wine: On the wild, or natural side (a bit funky retronasal aroma).