I met Julien and Angélica at Barcelona's Vins Nus fair for the first time. (See here.) This time a meeting in Madrid called for a festive start of a wine trip, even though the city itself was calmer than usual due to the coronavirus and the heat. Carlos Campillo at his Cascorro Bistrot never fails to deliver, and Coruña del Conde's rosé pét nat was one of his best offers. It was strange to see the Plaza de Cascorro that empty though, and he admittedly said it had been a tough time too.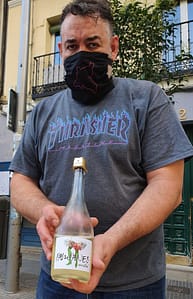 Back to Coruña del Conde: The vineyards are located on the slopes of Alto Otero, in the village with the same name as the wine company. Coruña del Conde, at a height of around 1.000 meters above sea level. They now have 9 hectares, divided into 36 parcels, in a calcareous clay terrain with a typically continental climate. The viticulture is organic since 2007, no pesticides, only copper and sulphur.
The rosé pét nat is made from 100% tempranillo. After 24 hours of maceration, the grapes are pressed, and fermented in vats without any additions.
Rosadito 2019 (Coruña del Conde)
Light cherry red, a little bubbles. Full of red fruits (raspberry, cherry), some herbs. A little residual sugar and lots of fruit. Very juicy, with a slight texture and a nice natural acidity.
Price: Medium