Here is a lovely white from southeastern Sicilia, from the zibibbo variety. I have earlier also highlighted the red version. (Read here.)
COS started in 1980, when the three architecture students Giambattista Cilia, Giusto Occhipinti and Cirino Strano, mostly as a fun experiment, founded the winery. Names are composed of the initials of the three classmates' surnames. Today, they make top wines using ancient methods in Vittoria on the southern tip of Sicilia. Today they cultivate 35 hectares biodynamically.
The grape for this one is zibibbo, in the moscato family. The soil is calcareous and volcanic clay, with silica sand, in a vineyard planted in 2001. It's of course spontaneously fermented, before a 7 months skin-maceration, and maturation a few months in clay. COS prefers the Spanish tinajas as made by José Padilla of Albacete (read here). Unfiltered.
Certification is organic, and they work according to biodynamic principles.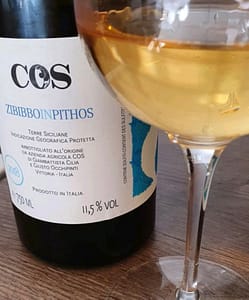 Zibibbo Pithos Bianco 2018 (Az. Agr. COS)
Light golden. Aromatics include apple, orange blossom, pineapple, and a touch of honey. Full-bodied, dense, adequate acidity.
Price: Medium
Food: Dried fish, salads, light meat, pork…