Beaujolais is back. The local people brings it back on the squares of central Beaujolais after two pandemic years. And as usual, from the third Thursday of November it's arrivé here for us to enjoy.
One of the best I have tasted this year is a Beaujolais-Villages from Château du Chatelard. The château was first owned by the Tournus abbey of south Burgundy in the 12th century. Today the labels carry emblems of the families that have developed it further.
The actual 28 hectares were mainly established before 1955. They believe in integrated farming and grass cover of the parcels to preserve the soils and the biodiversity.
Aurélie de Vermont is now manager, and as winemaker she sticks to local traditions. She selects micro-cuvées from the many terroirs of both their Beaujolais and Mâconnais vineyards.
Typical for the area, low temperature semi-carbonic maceration is used for the nouveau. This means that whole and partial bunches of grapes are vatted and the alcoholic fermentation starts inside each grape. The low temperature allows a longer winemaking process (more than 10 days).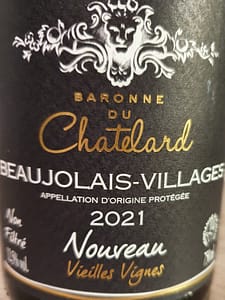 Baronne du Chatelard Beaujolais-Villages Nouveau 2021 (Château du Chatelard)
Deep purple, young. Aroma of sweet cherries, raspberries. Nice acidity, clean fruit, elegant and careful tannin
Price: Medium-low