César Márquez Pérez is one of the young winemakers who contributes to make Bierzo a dynamic area, and it's easy to predict that he will become a far more well-known name than today. He is the nephew of Raúl Pérez, who has mentored many producers in their initial phase.
César started his own project in 2015, and works with a number of plots, several of them with over a hundred year old vines. He has 2 hectares in the Valtuille de Abajo, at the moment he also uses purchased grapes from 3 hectares, where he works closely with the growers. It is mostly mencía for the red wines, but also around 10% garnacha tintorera, most often grown in the same fields.
He applies a similar production method for all red wines, thus they are suitable for showing differences in vintage and vineyard conditions. The grapes are always grown organically, they are partially destalked and fermented in open old barrels. The maceration time is normally quite long, but with careful extraction. And the use of sulfur is always careful. The result is very fresh, vibrant and expressive wines.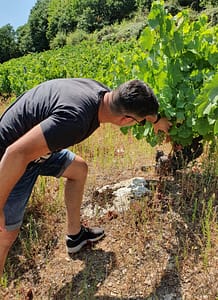 We are in the paraje El Rapolao, located in the pedanía (neighbourhood) of Valtuille de Abajo (which in turn is located in the municipality of Villafranca del Bierzo). This is a very important site, 3.5 hectares with 20 owners, of which 10 make wine that will potentially have the name on the label. It is the coolest of the fields César has available. Ricardo Pérez Palacios also buys wine from here for his tax-free bestseller Pétalos.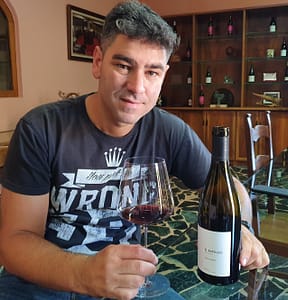 El Rapolao 2018 is, as we have heard, a single field wine from one of the coolest corners of the Valtuille de Abajo, but not higher than 540 meters. The exposure is north-facing with a clay soil. Dark color, cherries, slightly reductive, some smoke and spices, fine-grained tannins. A very elegant wine.
El Rapolao 2018 (C. Márquez)
Dark cherry colour. Intense aroma of red fruits (cherries), cloves, some spices. Fleshy, yet fine-grained tannins and good acidity. An elegant and smoky mineral wine. It's slightly reductive at some point, thus changes in the glass.
Price: Medium