It's two years or so since I first met Tom Puyaubert and tasted his range of wines, and I instantly knew that this was something to take notice of. I have tasted some occational wines since then, and they have never disappointed. Now at wine bistró Guardaviñas in Logroño, capital of La Rioja, I tasted the Horizonte again. Read about the visit here.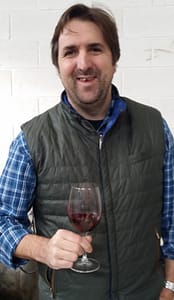 Tom Puyaubert, Exopto
Tom is one of the so-called Rioja'n'Rollers, a new generation vintners that put their focus on terroir. Exopto comprises 10 ha, divided into 15 micro-plots, of 30-90 years old bush-trained vines. He has chosen the vineyards to be able to blend from different types of soil, orientation, altitude and so on. The winery is in Laguardia (Rioja Alavesa), the tempranillo vineyards are found on calcareous soils in Ábalos (Rioja Alta, but near Labastida, San Vicente, Laguardia, i.e. the road that snakes in and out of Alta and Alavesa). For Tom the Atlantic influence of this site is ideal to express the refined fruit and the complexity of the variety. The garnacha and graciano is mostly grown in sandy soil near the Monte Yerga range in the south-east, where maturation especially of the garnacha is easier. The altitude is around 1.000 meters (in Rioja Baja, imagine).
Horizonte is based on tempranillo with around 10% each of garnacha and graciano. The fermentation was in oak vats and concrete tanks at 22-26ºC. It was macerated for 21 days, and aged 12 months in French oak barrels (20% first use).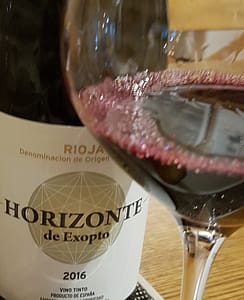 Horizonte de Exopto 2016 (Exopto)
Dark, dense ruby colour. On the nose blackberry, blackcurrant, a second layer of roast and subtle vanilla in the background. Good concentration, young tannins, very fresh, still in its youth, and will keep for long.
Yes, the wine is young. Yes, it's maybe too young. But if you don't grab it now you will never see it, and never taste it again, because the production is so small. The best would obviously be to buy some and put them aside for a few years.
Price: Medium
Food: Roasts, game, stews, other meat dishes