Gota is a relatively new wine bar in Madrid, in the Chueca district. It's quite hidden, with no signposts. You simply have to know where it is and look for the doorbell, that is the only place you can find the name. I popped in a couple of hours ago. I have booked my first visit to Les Mouvais Garçons, a few blocks away, tonight. But the talk of the town said that I should pay Gota a visit, so there was no time left, as I leave tomorrow.
Manager is Fede Graciano from Argentina. He opened Acid Café near Atocha some years ago, which is recommended for coffee freaks, and Acid Bakehouse (I think it was later). Nahuel is his sommelier, when he's not making his own natural wine in El Tiemblo, Gredos.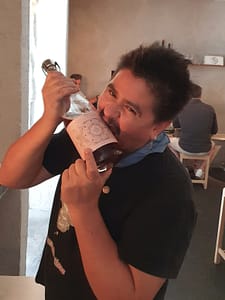 At Gota they specialize in natural wines and homemade kombuchas. They offer a sharing menu that works well with their wine list. They specialize in music of various types, that can be as "acid" as the wines and reflecting the name of the original bar. But don't think of it as a noisy place, it's a haven, relaxed and perfect for wine lovers who want to disconnect after a hard day at work.
I had two wines at this first try.
Verbena 2022 (Uva de Vida), a pét nat from Santa Olalla in the Toledo province, based on graciano and tempranillo made with direct press, malolactic, three months on lees and no additions.
Ruby red, with bubbles. Smells of cherries and flowers. Rounded in the mouth, no sharp acidity, but still fresh and saline. The wine is simple, but Herbie Hancock's music is complex, says Nahuel, referring to what plays in the background.
1301 2021 (Samuel Párraga), an orange wine vijiriega from the Málaga province partly made under flor.
Amber colour. On the nose, oxidized notes, like almonds and nuts, and flowers. Full and savoury, with a salty finish.
The pét nat went with an oyster, and the orange wine with rugbrød (I recognized the Norwegian/Danish spelling there), sourdough bread with butter and anchovies.
A place to go to when in Madrid.
Leave a Comment