Fernando Paiva has been one of the pioneers of biodynamic farming in Portugal, with his stylish and inviting Vinho Verde wines. I have written about them several times, like here. Following this year's Simplesmente… Vinho fair I got the chance to meet him at his Quinta da Palmirinha in Lixa, near Amarante, where he lives.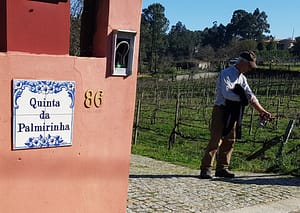 Fernando Paiva tidying up a little as he passes
From the 2017 vintage he uses the unlikely element of chestnut flowers. They grow just outside the door, and he adds them to the press, and they act as an anti-oxydant, so there is no use of added sulphites.
Lixa is in the sub-region of Sousa, where there is less rainfall than further out to the coast, but also moderate compared to the continental inland. So we could say it's a zone in between. This place is excellent for a grape like azal, that is difficult to ripen, and that makes up half of this wine, together with arinto.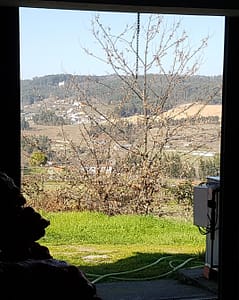 The chestnut grows just outside the winery door
Quinta da Palmirinha Branco 2017
Light straw coloured, tiny bubbles. Floral and fruity, with some citric notes. In the mouth it's in a way mellow, but with a fine citric touch, dry, with a lovely minerality.
Price: Low
Food: Fish, shellfish, vegetables