Saperavi is an old indigenous teinturier grape, a variety where the pulp and grape juice are colored. It's a hardy variety, known for its ability to handle extremely cold weather, and is popular for cultivation in high altitude and inland areas such as Kakheti. But from my experience, even if the wine can be black as ink, it's often juicy and surprisingly accessible.
The Georgian Vine and Wine Company, that also goes by the name Shilda Winery, was founded in 2014. The property covers five hectares and is owned by the Chkhartishvili family. Winemaker is Temur Kortava. Rustaveli is named after the Georgian poet Shota Rustaveli.
The wine is produced from the Saperavi grape and is fermented in large clay pots (qvevri) before 5 months of further storage in qvevri. Kakheti is the region in the far east of the country, where 70% of the vines are grown and 80% of all wine in Georgia is produced. The region has varied topography and large limestone deposits. Kakheti is the hotbed of qvevri winemaking.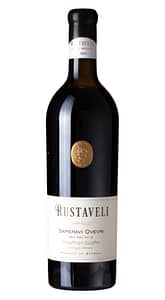 Saperavi Qvevri 2020 (Rustaveli)
It has a deep, dark colour. The aroma shows hints of blueberries, wild berries, with herbs, flowers and spices. It is fruity and juicy on the palate, follows the nose with a cool herbal note, with a slight dryness.
Price: Medium