On my way to Valladolid I stopped in the small Segovian settlement of Nieva. This is one of the southernmost villages within the Rueda area, and probably the one with highest altitude. Ismael Gozalo's family has been involved in the small coop Viñedos de Nieva, and Ismael himself was one of the founders of Ossian. He sold his part there to concentrate on his own project, but kept the high-altitude pre-phylloxera verdejo vineyards. (Add to this the bodega of the Herrero family, also formerly with the coop, and you see that 4 notable wineries isn't bad for a settlement of less than 300 people.)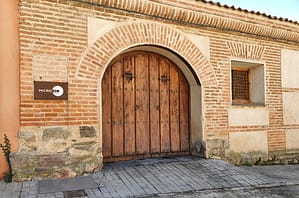 Ismael was waiting outside the MicroBio bodega talking to one of the neighbours when I arrived. The bodega is located right beside the village church, and an old Dominican convent forms part of the bodega.
He has been called a "verdejo alchemist", for his creative ways to deal with this grape. Everything has root in tradition, it has to be said. I was there when I tracked down the roots of the area's tradition for sherry-like wines. Here you can read the one article among three, the one that deals with Ismael's EvoluciÓn.
EvoluciÓn is stored longer under flor than the dorados of the other producers' wines. Therefore, one might call it pálido rather than dorado. Surely it is that it is also made after inspiration from the historical wines from Rueda. Because of a longer time under flor it is lighter than the others in colour. It is aromatic, with hints of ripe apples and plum and a yeasty flor characteristic. It is a very fresh wine with good concentration, vital acidity and a sweetish fruit sensation. Dry in the mouth, and good length.