Continueing the rock series (a very thin thread really) from early February, Mother Rock is a producer that I have enjoyed so much over the last few years that I just had to leave you a tip of advice here. They are in a way in the shadow of leading lights and neighbours Testalonga and Intellego of Swartland, South Africa, and as such bargains. But there are many insiders who think you should take the opportunity to buy their wines now, because for natural wines their prices are ridiculously low.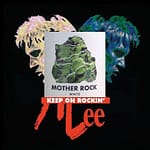 Winemaker is Johan Meyer, a young Brit who who shares the values and techniques of the aforementioned producers. He was educated in Stellenbosch, but his visits to Roussillon and Tom Lubbe of Matassa took him in a whole new direction. Mother Rock Wines was established in 2014. The whole range is fabulous, and even their "entry-level" wines (if this is an adecuate expression here) are superb and have a sense of not only terroir, but a raw natural force, if this sounds meaningful.
Johan and the team have a really good hand on the chenin blanc grape, and I can also strongly recommend their "semi-orange" Force Celeste. This week's pick is their "basic" White in 2018 version, that is made from chenin blanc 61% and lesser quantities of viognier, grenache blanc, sémillon and hárslevelu. The latter is omitted in the 2019 vintage, also in the market now. Each grape is grown in different types of soil throughout this immensly fascinating region that is Swartland.
Half of the grapes are fermented quite cold in steel, while the other part ferments in old barrels. Some, like hárslevelu, sémillon and grenache, are fermented with whole bunches with a four weeks of skin-contact before pressing. The wine stays on the lees nearly a year before bottling – unfiltered, naturally.
 Mother Rock White 2018 (Mother Rock Wines)
Yellow, cloudy. Aroma dominated by citrus (lemon, lime), yeast, candle wax and a touch of honey. Appley, cidery in the mouth, lightly structured both in terms of tannins and acidity, juicy, a touch of bitterness in the finish.
Price: Medium
Food: Salmon/trout, grilled white fish and shell-fish, some Asian dishes, lighter meat…