No, this is not just a slick heading, but actually the name of the wine. For so much loves Rheinhessen producer Wittman this type of soil that they decided to name a wine after it.
I bought it in a tax-free shop at a ridiculously low price. And in the wine is in fact bottled specifically for the Heinemann group, that's responsible for the selection of most airports in northern Europe. It reminds me of some of their more basic dry rieslings though, but more about this and this brilliant winery at a later occasion.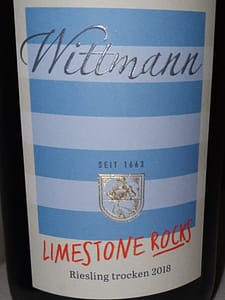 Limestone Rocks Riesling Trocken 2018 (Weingut Wittman)
Light yellow. Young, fruity aroma of yellow apples, flowers, and a stony minerality. Young, slender, but with good concentration, slightly spritzy riesling style, and am elegant acidity dancing on the tongue.
Price: Low