We have talked about Domaine Matassa several times. Read here about one of their white wines, and here is something from another project that New Zealand born winemaker Tom Lubbe is involved in.
The white Coume de l'Olla is a lovely, citrusy skin-contact wine. Today we had the red wine with the same name at a restaurant.
It's made from grapes biodynamically farmed in the Calce region, on the northeast side of the Pyrenees. They are grenache 70%, grenache gris 20%, and macabeo 10%. The must was spontaneously fermented and aged in cement tanks.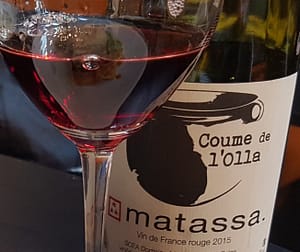 Coume de l'Olla 2015 (Dom. Matassa)
Light ruby. Aromatic, smells of red fruits, both sweet and sour (plum, cherry, cranberry), floral overtones and hints to truffles and mature cheeses too. Quite soft, fleshy, but just enough tannin to bind it together, a fresh, natural acidity and some spice in the finish.
Price: Medium
Food: Light meat, salads and much more. At an Italian restaurant we tried it today with four different dishes, and it performed brilliantly with vitello tonnato (veal in tuna mayonnaise) and pasta with a creamy sauce and mushrooms.