I am just home from Verona. I love the city for its architecture with granite buildings, its atmosphere, the river Adige that snakes through, and in my opinion it's unfairly overshadowed by nearby Venezia.
This week's wine could be many, because it was a rewarding week. But they will appear in future articles. This one was served at the Osteria La Mandorla, only two blocks from the city's outdoor opera Arena. Mandorla, aka Vini Zampieri, is a small, colourful, historic bar with a good selection of organic and natural wines, a knowledgeable staff, and cool jazz and rock soundtrack. With the wines they serve tasty bites like toasted focaccia, characuterie, and their wonderful arancini (rice balls).
I had a Monte dall'Ora Valpolicella, a Mosconi Soave and a Sternau Campania falanghina, but I chose the first wine of the evening, a "sui leviti" (sur lie) Prosecco from the province of Treviso. (See also last week's choice.)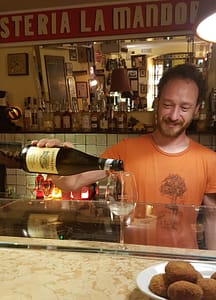 Luca Pietropoli serves the Prosecco, the arancini in the foreground
The history of Gregoletto starts in 1600, when the family signs a contract with the Abbey of Follina for cultivation of some vineyards, still managed by them. We are in the hills between the three small towns, Conegliano, Valdobbiadene and Vittorio Veneto. The two latter have soils consisting of clay, and a cooler climate than Conegliano, especially the northern ridges. South oriented vineyards near Pieve di Soligo have a warmer climate and soils consisting of limestone and clay.
The vineyards are situated in the subzone of Premaor in the commune of Miane, between the three aforementioned towns. They also buy grapes from a handful of grape growers with whom they have had close relationship for a long time. Only grapes grown on hillsides are used for all wines. Compost is rarely used, and herbicides are never applied in any plots.
The harvest is done by hand, the grapes gently pressed in pneumatic presses, and fermented by indigenous yeast in steel tanks. It remained on the lees for another three months after which it is bottled. The refermentation of this wine takes place in the bottle (not in the conventional tank).
The wine is not disgorged, but remains for on its lees until it's served, just like in the old days.
Prosecco Frizzante Sui Leviti (Gregoletto)
Light straw colour, somewhat cloudy, fine and persistent bubbles. Subtle nose of green apples, with some bread crumbs. Completely dry, and with a fine acidity.
Price: Low
Food: Pasta, grilled fish, risotto, charcuterie