From Siemàn in Colli Berici it was almost an hour's ride back on the north side of the motorway, to Bassano del Grappa, in the extreme east of the Breganze DOC. Here is Vignaiolo Contrà Soarda, whose wines I had been familiar with since a few years ago. I had tasted their wines in London, both at the Raw fair, including the tasting that Fiona Beckett talks about here, and in natural wine bars.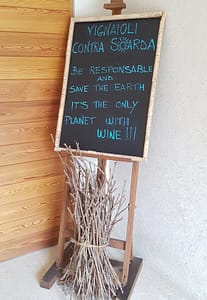 I came half an hour early, so I started to make myself comfortable, as I believed I was going to meet the person with whom I had corresponded. So I started with a short tasting in the shop. It turned out that it was nobody else than one of the owners, Gloria Gottardi herself, that kept the shop going at that time.
The first wine was exactly the one that Beckett started her tasting with, as an alternative to sauvignon blanc to match with a goat's cheese. And it stood the test with its crisp, citrussy flavours. That time it was the 2012. Now the Soarda Vespaiolo is in the 2017 vintage. Vespaiolo is a wonderful grape, one of the great Italian V's (alongside verdicchio, vermentino, a.o.).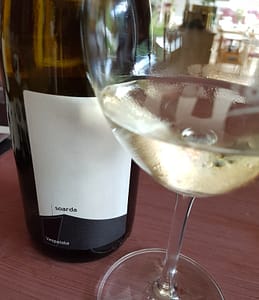 Vespaiolo (or vespaiola), named after the wasps (vespa in Italian) thrives especially well in this area of Veneto. -it's our star grape, the whole family agrees. It is often used for passito (dried grapes) style dessert wines, such as the Torcolato, and the wasps have also found out that the sugar levels can be very high because of the sweet aromas in the vineyards. The grape is often fermented to dryness, and produces wines with high acidity and other aromatic characteristics.
Contrà Soarda's Vespaiolo 2017, fermented and raised in steel and bottled unfiltered, was light straw coloured, with green apples, pears in the aroma, and a high, but well integrated, acidity. Vignasilan 2013 (made in the same way, also 100% vespaiolo); light straw, apple and citrus aromas, but it also goes towards peach and apricot, and a touch of honey. The great concentration and elevated acidity makes the finish long, and at five years of age it keeps very well. 121 B.C. Time Flows Bianco 2014, named after a fabled vintage a long time ago, is also a varietal vespaiolo, I tasted before I left for Italy, and it's convenient to mention it here. It's spontaneously fermented, with 7 days of skin-maceration, and stayed 12months in oak barrel (with steamed, not toasted staves), and no added sulphur. Nice golden colour; complex aroma with floral components, honey; concentrated and structured (high acidity and some tannin).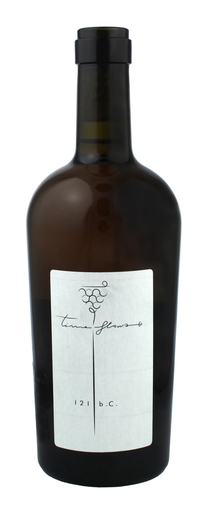 121 B.C. Time Flows Rosso 2012, is the red version. Here the variety is carmenère. It's aged for 18 months in steamed oak, the rest is similar. Deep cherry red; mature fruit (blackberry, dark cherry), with some herbs and spices; luscious and fresh in the mouth, with a light tannin structure.  Veneto Rosso 2009 is a blend of  marzemino 30%, merlot 25%, pinot noir 20%, and the rest teroldego and groppello, fermented in steel and barrel before blending, then matured 24 months in barrel and steel. Deep purple; fresh aromas of dark berries, cherries, morellos, herbs, and some underwood; fresh, immediate and juicy in the mouth, with a nice integrated tannin.
Back to the Bassano tasting, the last wine I tasted with Gloria was Musso Riserva 2007. A lovely wine from marzemino and merlot, and the first wine that really showed development: Brick nuances; developed aroma somewhere between cherries, dried fruits and smoke; quite slender on the palate with plums and some lickorice. -Musso is a different project, explains Gloria. -Musso means donkey in Venetian dialect. When thinking about terroir images of vines, soils come along. And our philosophy is based on the respect for our land, but alto the animals that live on it. So Musso offers a none ironic perspective, suggesting that the animals are in fact part of the terroir. Donkeys are much more than workers; they are gentle and intelligent companions, curious and with an incredible memory. While horses often will run away from any danger, donkeys are cautious and steadfast.
Anyway, in comes Marcello, the wine maker, and his father Mirco Gottardi (Gloria's husband obviously), and we have a chat and a brief tour around the premises.
Mirco (left) and Marcello Gottardi
The hill was bought in 2000, and 2004 was the first vintage. They started with a 4 hectare vineyard, now it's 18. A successful traditional restaurant in Bassano centre, that the family has been running for three generations, has been important for the project's overall economy, says Marco. In 2011 the restaurant, Pulierin, was moved to the hills where the winery is located.
Down to some basic information: Contrà Soarda, meaning 'on the slope', is located in the hills at the foot of the Asiago plateau in San Michele of Bassano del Grappa, a place dedicated to vines and olive trees since ancient times. The soil here is volcanic, often called "onion type", because it's old lava solidified in various layers. This makes the rock easy to break, thus it's easier for the roots to go deep. We also find clay and rocks with fossils here.
A green manure is used to improve the biodiversity. The vines are normally trained in ouble guyot. Only own grapes are used, growing and vinification is all natural, with natural yeast, spontaneous fermentation, and also natural temperature control. The first harvest is normally done in the 2nd week of September, three weeks later for the sweet wines. The winery is modern, but based on traditional winemaking techniques, such as gravity, and wisely integrated with the environment.
They come back to the vespaiolo, -our star grape, the family rejoices. -It's versatile; we use it for sweet wine (torcolato), natural wine, basic wines, cuvées, and special selections. We love it for the high acidity and the citrus notes, the mineral character. And after ageing it gains in hydro carbon, like truffle.
Time flies, or flows, as the labels say. I take a look at the watch, appologize that the visit became shorter than intended. But the good impression I had before I came here is confirmed, and I am already looking forward to next time, when a visit to the restaurant should be obligatory.
2 Comments