Veneto has so much to offer. It's enough to mention Valpolicella (with its ripasso and amarone), Soave, and we have now learned about Gambellara – each of these with their own sweet recioto. Then there is of course Prosecco, that the Veneto region must share with neighbouring Friuli.
Remembering that Gambellara is also Vicenza, now we shall talk about three more wineries located across the province. To try and keep it inside the blog format we will divide it into three parts. And we start with, freely after Tennessee Williams: An Estate called Harmony.
Andrea Pendin's Tenuta l'Armonia is found in the small settlement of Bernuffi, municipality of Montecchio Maggiore. That means if you can find it after the narrow, long and winding roads. Arriving there you can experience the perfect harmony, and see for yourself the co-exsistence of people, land, chicken, turkies, and all the small creatures found in the vineyards.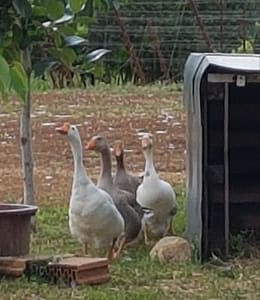 It's Lorenzo Fiorin who meets me. He's working in export, but also a little bit of everything else, as it is useful to have an overview over the whole situation.
The estate has 10 hectares of vineyards planted with both indigenous and international varieties. It's quite new, from 2008, but some vines are more than 60 years old. The vines are planted in the slopes and on top of a hill, in various exposures. Around 40.000 bottles are made per year, from own and rented plots (7 more hectares).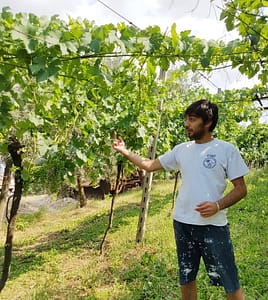 Lorenzo shows the pergola system
The soil here is volcanic with some schist and chalk. There is an amphitheater with white soil (chalk), shells and other fossils. Towards Verona in the west there is volcanic soil, and also tufa towards the south of Verona.
Both indigenous and international varieties are used. We walk past a planting done three years ago; merlot, syrah, cabernet franc etc. -The varieties are not the most important, says Lorenzo. -It's the terroir, and also see how the grapes react together with it.
-A grape we really believe in is durella, especially for its acidity, but also for its history. It is really one of the traditional grapes here in Vicenza.
One has already understood that the cultivation is organic and biodynamic, so it's about maintaining and stimulating biodiversity. Mint grows naturally in the vineyard, oat too. Green manure (based on plants and flowers) is employed.
The idea of harmony, the balance in nature, is also a message that winemaker David Xodo has preached from the very beginning. -In the long run we don't need to work as much as with "chemical agriculture", because the biodiversity we have created is holding itself up, says Lorenzo. -Furthermore, Veneto is a cool place, always windy. It's then easier to work the vineyards organically. A light breeze is also welcome walking around the estate on a hot summer day like this.
Andrea Pendin
Andrea is a trained chef, so the chickens and the turkeys in his Garden of Eden shouldn't feel too safe… He has also a stove with a pizza oven that can do magical things. There had been a party, with a lot of leftovers, and some other wines that had been opened up to 13 days before. so we had a lot to sample.
Bruno, Andrea's father who started it all
Basically there are two different lines. "Pop" consists of high quality "easy" natural wines at a good price. "Cru" is a premium line from native varieties in clay and limestone. Here are some very brief notes.
Frizzi 2015 is a pét nat, or col fòndo sur lie at 12%. it's a simple, easy, un-oaked, appley, not very structured, lightly bubbly wine. Pinot noir had a bad year, so pinot bianco and chardonnay were used together with the usual durella, the acidic grape that made Vicenza special in the past.
Frizzi 2017: Here was pinot noir fully ripe, so there is 60% and the rest durella. No maceration, no filtration. The only problem with our bottle was that there were no bubbles, as the re-fermentation had apparently not started yet. Another bottle of the same wine as better: Light salmon red, a touch sweeter; strawberry, apple, and a crisp acidity.
Pop is a series with more volcanic soil than the Cru, and doesn't ripe that much.
Bianco "Pop" comes from a relatively high altitude vineyard at 500 meters. 2017 is light yellow with appley aroma and fresh acidity. The 2016 I find a little more ripe. This has some incrocio manzoni (or: manzoni bianco), a cross between riesling and madeleine royal. We also tried the 2012: Lightly browning, orange peel (from longer maturation on skins), ginger notes (from a proportion of garganega). For that vintage some carbonic maceration was used. -Acidity is what binds them together, Lorenzo points out. And rightly so.
Perla 2016. This is a "Cru", which means smaller area, lower yield, older garganega plants (60-80 years). This is a varietal garganega, both early harvest and late harvest (with some botrytis), then blended. Andrea is a good friend of Sébastien Riffault of Loire, and it was Sébastien who gave him the inspiration for different harvest times. The wine shows a complex aroma of mature apples, nuts, flowers, apricot, towards honey; medium full on the palate, and a salty, mineral aftertaste. The acidity is there, but it'snot pungent.
Bolla 2013. This is their traditional method sparkler. The 2013 has 75% durella, pinot nero, got a light maceration and stayed 14 months on the lees. This gave a pink blush, some yeast and also some oxidative notes, like yellow or mature apples.
What followed now was like a "Capriccio Italiano", a joyous ride over creeks and hills, with wines in a seemingly random order. Love it! On came a fresh and inspiring, waxy, appley, and a little smoky vespaiolo 2017. A teroldego-CS-garganega with light pink colour, flowers, pyrazine (sauvignon-like), with super fruit all the way. Brio 2017, in the Pop line and predominantly from cabernet franc, is a luscious, peppery carbonic maceration wine, made in cement tank. There was a fruity, partly carbonic maceration Barbera in both 2017 and 16 editions, the latter a bit more structured than the former.
And what about this!
G-Ray is from something called the "Lab" line, where Andrea works with another Andrea, namely Marchetti, among other activities founder of the Vinessum fair. This wine is from pinot grigio on volcanic soil, it has been in contact with skins 8 days, no sulphites and no filtration. As you can see: Turbid light red or rosé; aromas of strawberry, apple; quite good concentration actually, and not that simple as you maybe might think.
Lastly there was the Gioia of the Cru line. 2016 is from cabernet franc, hand-destemmed, no sulphites added, and no filtration. Pure, loads of red fruits, some pepper, and a promising tannin structure. 2012 (the first vintage of the wine), made from 100% carmenère, stayed in big oak tonneaux for 8 months: Some cigar box and pencil/carbon notes (graphite soil), with red fruits, and a good structure.
Epilogue:
Lorenzo tells that they are a sort of incubator that helps young vignerons from Vicenza area to develop their own projects. These are: MaterVi (Alberto Rigon), Yeasteria (Jacopo and Esmeralda) and Do-line (Nicola Rigo). Small production (less than 10.000 bottles) and sharing the same philosophy (no interventions in wine-making and respect for the living environment) are requirements to participate.
I think 's an honorable act supporting others in the same area and tradition, without seeing them as competitors. In the long run this will help the whole province, or region.