Federico Schatz has been a leading figure on the Andalusian wine scene for many years. He came here from Süd-Tirol, the German speaking area in the north of Italy. And before that his family came from Baden Württemberg, where they had been involved in viticulture since 1641. So his real name is Friedrich, but here he is Federico. Year after year he puts out remarkable wines, for long the same six wines that form his last name when placed side by side. Treasure, it translates.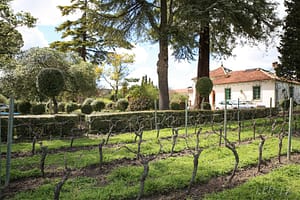 Bodega house (credit: Linda Haynes)
The vineyard extends in a gentle slope to the south with a deep soil with silt loam, clay and sand. This secures a healthy soil because of the good aeration and permeability. In 1982 he planted new strains to study the plants' behavior. As a result 3 hectares were planted with his chosen varieties.
Friedrich Schatz
This time I had an appointment to come and taste his new vintages. It was nice to see his label designer being there doing the same. After a while a distributor joined in with some guests. Everything very familiar and very Spanish.
On to the wines, that we tasted in a slightly different succession than put after another by the labels.
S Chardonnay 2016: This is a sample, almost finished though and will be released shortly. It was fermented with native yeasts, was aged on its lees in French oak for 5 months (with some batonnage), and is now in steel.
Light yellow. It's very fragrant (white flowers), has some tropical notes too (banana, papaya), with a lively, fresh acidity and mineral aftertaste.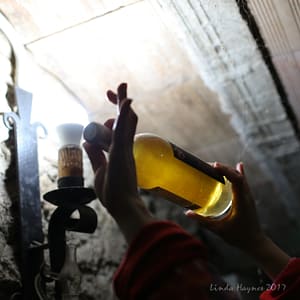 The Chardonnay (credit: Linda Haynes)
Z Rosado 2016: This has long been one of the most personal and complex rosé wines around. It used to be made from the muskat-trollinger grape, now it's moscatel negro. And it does not disappoint. This one is treated much the same way as the white wine, except for three days of maceration (as opposed to one).
Light red (dark for a rosé). Violets, raspberry and some balsamic notes. Dry in the mouth, good volume.
The reds ferment in open tubs for one to two weeks. The alcoholic fermentation of the red wines is carried out at a controlled temperature with native yeasts in open vats, manual pressing down several times a day. Malolactic fermentation is carried out in deposit, then aged in barrel (French, American and Central European) for up to 6 months, the lees removed once in a while.
H Acinipo 2009: Named after the Roman ruins just down the road, the name meaning "land of wine" in pre-Roman language. The wine is made from the variety lemberger, more officially called blaufränkisch and much more used further north and east in Europe. The toasting of the oak varies according to grape variety. This one requires a careful treatment.
It has good colour for a lemberger. It has a balsamic smell (mynth), some laurel, flowers. I'm the mouth it's rounded, but with some tannins too and good acidity.
C Pinot Noir 2010: One year in oak, more toasted than for the previous wine.
It has a good colour, dark young ruby. The aroma is quite tricky, forest fruits with some cigar-box and chocolate (reminding of both another grape and another place, you guessed it: cabernet sauvignon and Bordeaux), but red fruits too. Full on the palate with a certain dry texture, spicy with some cocoa.
A Finca Sanguijuela 2010(?): The wine that takes the name from the farm is a blend of some of the grape varieties grown there, cabernet sauvignon, merlot, tempranillo and syrah, in approximately even quantities.
Dark red. Aromas of red fruits, cherry, lavender, rosemary, a touch of oak. In the mouth it has some dryness, I suppose from grape, soil and oak, some cocoa, and a long aftertaste.
T Petit Verdot 2010: Darker, deep purple, shows no signs of wear. Complex nose; balsamic/medicinal notes, red berries (cherry, plums), tobacco, some underwood too. Quite dry in the mouth, partly from 12 months in oak and heavier toast, but with a fresh acidity too.
Vineyard close to the house (credit: Linda Haynes)
Again, the Schatz portfolio delivers as expected. If you ask me which are my favourites (some already did), it's difficult. The rosé is obviously a star, but the white is good in its category, and I have long been weak for the Acinipo (and not only for the name). But all of them have a mission. They are made to go with food. They are made for happy gatherings, for tapas tables, for a garden grill. According to Federico the Petit Verdot can even match desserts like brownies. It has many times proved that it's at home with meat from animals with horns. But brownies: Must try!