During the Real Wine fair some food providers were present at the Tobacco Dock to serve the tasters during their breaks. Among them were the DuckSoup wine bar of Soho,  Burro e Salvia, pasta place in Shoreditch, Flying Frenchman with their sausages and outdoor raised pork and chicken. The hotel wine bar La Cour de Rémi also came over from Calais to serve delicious flavours from Normandie.
Around town there were several "take-overs", such as Morgan McGlone of Belles Hot Chicken in Australia cooking Nashville style at Brawn. The Bastarda company took over Leroy in Shoreditch, with wine assistance of Ben Walgate of Tillingham, East Sussex. To mention only a couple.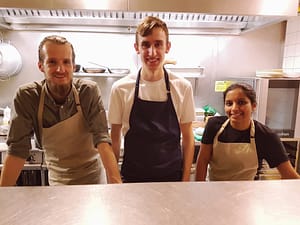 Claes, Magnus and Nayana of Söl, Norway
To my surprise, the trio behind Restaurant Söl of Stavanger, right in my own Norwegian backyard, were cooking at Terroirs, the most emblematic natural wine bar of all. Obviously I had to visit them and see what they were up to.
Restaurant SÖL opened in Stavanger on the southwest coast of Norway in 2018. The driving forces behind the restaurant are Nayana Engh, Claes Helbak and Magnus Haugland Paaske, all of them with experience from Norwegian and foreign restaurants.
Their main focus is fresh, local, sustainably grown vegetables combined with natural wines and drinks produced by small artisans – to be enjoyed in a relaxed atmosphere. SÖL can be said to be a part of the "new" Nordic wave, which means food inspired by traditional dishes, but with a modern twist and a wink to the world.
Claes
That night the wines were paired in collaboration with Terroirs' master sommelier Kevin Barbry. And Kevin was the one who served me the first wine while waiting in the bar. This was Mayga Watt 2018, a pétillant gamay from Gaillac in the Sud-Ouest region of France: A pink, crisp and juicy pétillant wine, with smell of strawberry and white pepper.
The first thing that was brought to the table was sourdough bread, and delicious organic butter from Røros, a lovely small town in mid-Norway. Grilled squash, fermented tomato, milk curd and ramson capers came next, elegantly paired with Attention Chenin Méchant 2017 (Nicolas Réau). This is a wine from Anjou the Loire valley. Originally Réau planned for a pianist career. Key words here are 15 year old plants, indigenous yeasts, direct press, no fining, light filtering, low sulphur, and ageing on lees in used oak. The result is a yellow, peach and mature apple smelling wine with good volume, luscious mouthfeel and a rounded acidity.
Next was panfried cod, dulse (the sea growth from which the restaurant takes its name), spring greens and brown butter sabayon. White flowers were garnish on top of this plate. Partners in life and crime Nayana and Claes had picked them by a local lake (Stokkavatnet, for those familiar with it) the night before they set off to England. Dinavolino 2017 (Denavolo), an elegant orange multivarietal wine from Emilia-Romagna, Italy, matched the tasty yet delicate dish without problems. The wine: Light amber; peel sensations, white peach and flowers; slightly tannic, wonderfully fresh.
Nayana
Next was Jersey Royals potatoes, broad beans, sugar snaps, beef jus and lovage, with herbs from the Rogaland region, the trio's homeplace. It was accompanied by Le Vin Est Une Fête 2018 (Elian da Ros), again from the Sud-Ouest of France. The main grape here is abouriou, typical of Marmande. The wine was cherry red, medium deep, smelled primarily of red fruits, and had very light, fine-grained tannins. The dish is complicated, with peas and other tender greens in a powerful sauce. The combination with a very lightly macerated red. It would have been interesting to see whether an orange wine, like the previous one, could have build a bridge between the strong and the tender.
Rhubarb compote (from the organic farm at Ullandhaug, Rogaland), toasted ice cream, rhubarb sorbet and crispy rhubarb. Lovely and fresh! There were two options for drinks, and I chose Éric Bordelet's pear cider Pays de la Loire (France). The cider was composed from many varieties of pear, grown on schist. With 12 grams residual sugar it gave a somewhat off-dry mouthfeel, a complex, cidery (what a surprise!), sweetish aroma, a touch of tannin. The marriage wasn't made in heaven, though the bubbles helped. I was wondering what could have been done differently. I must admit I thought the wind should have been sweeter. With ice cream a PX sherry automatically comes to mind, but it would have been much too powerful here. After having returned to Norway I visited their place and had the same dish. Then Claes served it with an apple cider, this time bone dry, with a penetrating acidity and fresh bubbles. Maybe not perfect, but maybe the closest possible.
To conclude: Fønix Blue, a cheese from Stavanger Ysteri (Norway) and rye bread. With this we could chose to include La Cosa (The Thing) 2017 (Alfredo Maestro), from the Ribera del Duero area of Spain. What a wine! Dark amber, or mahogany; complex aroma with rhubarb and plum, and very sweet. I had to come back to this wine the day after, at Alfredo's table at the fair, maybe to see if this was really true (!).
Remember this is a wine blog, not primarily about food. But once in a while it's necessary to say a few words about wine-food combinations, and I have given some opinions here. What could be said, as a conclusion, and apart from the fact that it was a big surprise to see these people her is the following. The trio behind Söl are cooking with great passion and creativity, and from good, healthy ingredients. They are also proud to come out among their "audience" and present it, what the ingredients are and how the dishes are made. The drinks are picked carefully among the most natural and sustainable there is.
We cannot expect more than that.