We tasted 15 varietal trebbianos in our local wine club yesterday. Trebbiano is a name for several grapes, more or less in family with each other. Many wines had apple or pear and citrus aromas, accompanied by a certain herbal character. The tasting also showed that low yields are necessary. The wines from Abruzzo and Umbria were generally quite concentrated with high levels of acidity, while those from Lugana were mellow and easy drinking.
Here are three of the best.
Bianco Regio 2019 (Cant. Margò)
Carlo Tabarrini farms biodynamically his vineyards in Sant'Enea, province of Perugia, Umbria. He works without any additions, like his parents and grandparents did. The soils are sand and limestone, and the age of the vines are close to 40 years. 8 days skin-contact, matured in steel and a small percentage barrique.
Straw coloured, slightly cloudy. Aroma of pears and oranges with some herbs. (Reductive at first, opens in the glass.) Slightly carbonic, tasty and quite concentrated, fresh acidity, and a slightly bitter and long finish.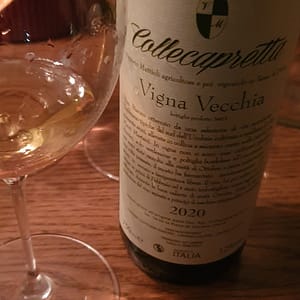 Trebbiano Spoletino Vigna Vecchia 2020 (Collecapretta)
This wine originates from Spoleto, in southern Umbria. The Mattioli family has cultivated these slopes since the 10th century, and they have made wine in the last three generations. The soil is clay with mixed content of iron and limestone, and fertilizing is compost from their own animals. Harvesting was done by hand. All wines are spontaneously fermented in cement without temperature control or additions of sulphur. This wine had two days of skin-maceration, and aged in steel. Unfined and unfiltered. Biodynamic.
Light golden colour. Aroma of yellow apples, table grapes, a touch of tropical fruits (apricot) and some herbs. Quite full in the mouth, luscious, a slight tannin, quite long with herbs in the finish.
Tïn 2018 (Montesecondo)
This wine is from a vineyard in San Casciano in Val di Pesa, Chianti Classico, and classified as IGT. The Messana family farms biodynamically, and the soil is chalky clay. The grapes were harvested by hand, spontaneously fermented with up to 4 weeks skin-maceration, and the wine aged in qvevri.
Light orange or amber colour. Opulent and grapey style, with a rich aroma of apricot, orange peel and smoke. Good body with just enough acidity, quite concentrated and long.