I have been a couple of days in Grimstad, Norway, the beautiful seaside town of my childhood. The most inspiring restaurant these days is Smag & Behag. They have also opened another restaurant in neighbouring Kristiansand. But this is the original. The wine list is not very extensive, but they have a magnificent underground cellar, high ambitions – and the selection is well-crafted and consists of organic and natural wines of good quality.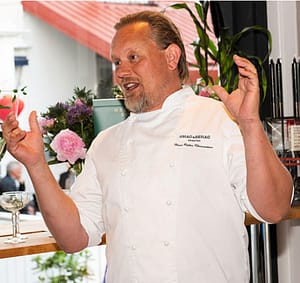 For a four course meal I selected four wines together with the waiters. The three first wines -young and beautiful- were Brocard's saline Chablis Sainte Marie 2022, Domaine de Nozay's flinty Sancerre 2022 and Olivier Merlin's raspberry-scented Bourgogne Pinot Noir 2021. Instead of going for a dessert with a sweet wine I chose a selection of cheeses and this week's wine, a classic style Chianti
Castell'in Villa is located in the south of Chianti Classico, just outside the village of Castelnuovo Berardenga east of Siena in Tuscany. The farm is run by the Greek-born Princess Coralia Pignatelli della Leonessa, who lives in a medieval tower on the property. Out of a total of 300 hectares, 54 ha are vineyards that are all grown organically.
The sangiovese grapes are grown in old river deposits with pebbles and sand, in a vineyard planted in the 1960's. The grapes were picked by hand and spontaneously fermented, before 3 weeks' skin maceration. The wine is aged in large oak barrels. Unclarified and unfiltered, and low sulfur (<40 mg/l).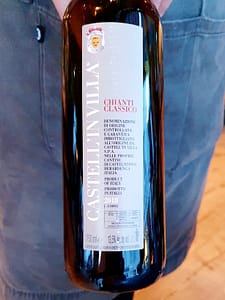 Chianti Classico 2018 (Castell'in Villa)
Dark cherry red, with a beginning hint of brown. Aroma of red berries, herbs, leather, mushrooms. Firm and fine-grained tannins, good acidity, notes of tea and plums, with a decent concentration and length.
Price: Medium
Leave a Comment