Verona is located in near vicinity of many recognized wine areas, but I can't see that it has a lot of dynamic wine bars. One can always go to the Antica Bottega, that boasts hundreds of wines, not least for references, as they present many of the leading houses in several vintages. But I am more attracted to the smaller, distinctive bars with a clear idea, call it underground, avant-garde, rock'n'roll, jazz or whatever you like – especially when the idea is to present organic, natural, artisan wines, that the proprietors and sommeliers have a personal relation to.
Osteria Nosetta is located in the pleasant neighbourhood of Borgo Venezia, just outside Verona center. And Nosetta is the kind of place that I am talking about. The restaurant is intimate and full of atmosphere, the decor is a rustic, retro, and the music was vintage jazz on vinyl when I was there. The food is without limits; their small dishes -locally called 'cicchetti'- are vegetarian, vegan, and you can have fish and meat too. The kitchen is based on fresh ingredients. The inspiration is from various places though, not least Asian-middle east, and there are some vegan dishes alongside more usual Italo-European stuff. The menu of the day was taped onto page 98 and 99 in an old paperback.
And the prices are undoubtedly to live with.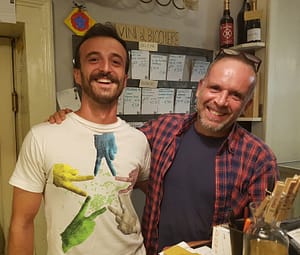 Andrea and Lorenzo
Lorenzo Folati has been leading the venture until now, but Andrea Venturini and a couple of friends are in a period of taking over.
They have a fine selection of wines and beers from independent artisan producers. I enjoy picking smaller 'bites' among those displayed at the bar, to go with a few glass of wines. Some were mint glass, a falafel, various greens, such as the delicious tomatoes, frittered squid, tomato and eggplant sandwich, zucchini with cous-cous, onions, honey and balsamico, and -why not- chocolate salami. The list goes on.
Here are a few of the wines that I enjoyed during my visits. (The order is changed according to "normal tastings logic".)
Durello 2017 (Calesio dalle Ore) is made with the charmat-method. It's a light coloured, apples, citrus, and bread scented, light-bodied sparkler with good acidity. Simple and good.
A postcard on the wall-board
Trachite 2016 (Alla Costiera), an unfiltered, yellow and cloudy moscato-prunella-garganega regional Veneto white with a sweet (moscato) sensation, together with flowers and citrus peel, and with a medium body, light tannin, and slightly bitter aftertaste.
Lugana 2015 (Marangona). This is a lugana from 100% turbiana grapes. It's a fresh, simple, dry wine with light, almost blank colour, with a greenish hint. And the aroma is dominated by pears and citrus.
On the contrary, the next wine, was all but simple. Sassaia 2016 (Angiolino Maule), a varietal garganega showed light yellow, slightly turbid, and on the nose could be found mature apples, flowers, ginger and a touch of toast. Slightly yeasty, quite full and with decently acidity, all in perfect harmony. Maule is a long time favourite, and there is a report from a visit in an earlier post in this series.
Musella is one of the better producers of both standard valpolicella and amarone. Here is a white IGT from the Valpolicella area, biodynamically cultivated as always. Pinot Bianco "Fibio" 2014, from that variety, is a bit more on the wild side. Yellow with green hints, smells deliciously of flowers, yellow apples, and I would say, plays with oxidation.  Quite slender, integrated acidity, very pure, and the fruit shines on to the end.
On to a real rarity: Il Fresco Cesane 2014 (Marco Antonelli), that is from the DOC (sometimes: Cesane di) Olevano Romano, Lazio. Got it? The production area lies in the province of Roma and includes the municipality of Olevano Romano and, in part, Genazzan. The wine was nice enough; cherry red, red fruits, plums, and hints of leather on the nose; smooth, juicy, and with an adequate acidity.
Merlot "Casa e Chiesa" 2015 (Lenzini) is a biodynamic Colline Lucchesi. It's cherry red, hints of green green pepper, a sweetish element from the oak elevation, and a light tannin on the palate and a touch of bitterness in the aftertaste. (14,5% alcohol, while most of those tasted here were around 12.)
We close the chapter from this gem of a wine bar with another pleasant surprise, nothing sensational, but better than most of its kind, a Moscato d'Asti 2017 from producer Emilio Vada. We are talking about a straw yellow coloured wine with the typical moscato rose aromas, clean, and pure. It's a lightweight, but it has an inspiring acidity and it's not sticky sweet, compared to what you often can find in this category. The alcohol here is 5%.
Arriving in Verona centre after a nocturnal walk
See the other posts in my Veneto series:
#1 – Maule's Masieri
#2 – Prosecco in Verona's Osteria la Manzorla
#3 – Gambellara: Maule and the two Davides
#4 – Zýmē's Recioto Amandorlato
#5 – Vicenza province I: Tenuta l'Armonia
#6 – Vicenza province II: Siemàn
#7 – A Durella sparkling
#8 – Vicenza province III: Contrà Soarda