I am in Fermoselle, a lovely village in Zamora province, Castilla y León. This is the heartland of Arribes del Duero, an exciting wine district bordering Portugal. One of the leading small, terroir-focused wineries is El Hato y el Garabato, José Manuel Beneitez López and his wife Liliana Fernández Pérez. The restaurant of my hotel, Posada Doña Urraca, has plenty of good local wines, and my choice is their Sin Blanca.
José and Liliana work with very old vineyards, between 80 and 120 years old, planted in bush style. These are all managed organically, out of conviction and because the structure of the vines, their age and the weather will protect them. In total they work 8 hectares divided into more than 20 plots.
Arribes is a small territory with only 272 hectares. Still the soils are diverse. El Hato y el Garabato take advantage of this as they have vineyards in clayey soils near the river, granite on the plains and schist and slate in the canyon – with altitudes ranging from 300 to almost 800 meters.
Sin Blanca (meaning: broke) is made from the oldest vines in which all the varieties in the vineyard are included. Juan garcía usually counts for 80% accompanied by bruñal (alfrocheiro in Portuguese), bastardillo (also known as bastardo, merenzao and trousseau) and rufete. It spent 9 months in French oak. Like all their wines it's not filtered nor clarified, and the sulfuring is very low.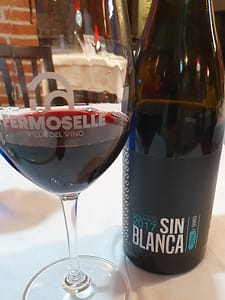 Sin Blanca 2017 (El Hato y el Garabato)
Dark cherry red. Red and dark fruits (cherry, blackberry), plum, herbs, stony minerals. Good volume, with an earthy touch and fruit all the way.
Price: Medium
Leave a Comment