This is one of three single vineyard wines that Goyo García Viadero makes from centenarian vines. The three fincas are premium examples of the concept of terroir, that in many ways has been neglected in Ribera del Duero.

In the cellar all grapes are destemmed by hand, pressed gently, and fermentations are slow. in cold, ancient cellar. He uses very finely grained barrels from Bordeaux, most often taken over from Bodegas Valduero, where his sister is winemaker. Sulfur and other additives are never used. This results in honest and elegant wines with a strong sense of place that also fit any definition of natural wine.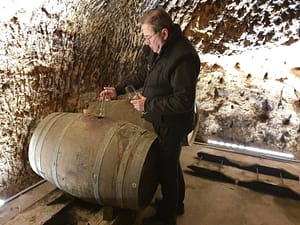 Finco Valdeolmos has always dark fruits (blackberry), a touch of licorice; gentle tannins and some minerality.
Finca Valdeolmos 2016 (Goyo García Viadero)
Dark cherry. Ripe wild and red fruits (blackberry, cherry), sun-dried tomatoes, a touch of licorice. Compact fruit on the palate, fine tannins, integrated acidity. A youthful natural wine with many years ahead.
Price: Medium
Leave a Comment