I am on my way to Croatia, to perform at a festival on the Dalmatian coast. I don't know yet if there will be an opportunity to visit some of the country's many good and promising wineries. Anyway, what could be better than warming up with one of the country's many wonderful wines.
The Roxanich winery has been a favourite after several fairs for natural wine, most recently at London's Rawfair. Roxanich is found in western Istria, Bačva area, where they have moved back to their original site in the historic town Motovun, in the crossroads between Venetian and Austrian-Hungarian culture.
They can be labelled low- (as close as possible to non-) intervention, low-sulphites, and they take their time.
Their vineyards are cultivated according to ancient methods and minimal use of technology. The maceration and alcoholic fermentation take place in vats of 55 to 70 hectolitres.
Motovun is famous for its white truffles and its grapes. But there is also a rumour that this is where the oldest amphora filled with wine was found, in the surrounding area of ceramics producing ​​Brkač. Roxanich add on their website, -Motovun is also considered as the most powerful source of positive energy in Istria because it is located at the crossroads of three dragon furrows, which transmit the Earth's energy and supply it to all living creatures.
As a consequence, they decided to return to that mystical place because they consider wine somewhat of a spiritual discipline.
This week's pick is a stately, statuesque white from the grape variety mavasia, or malvazija istriana, as it's called when grown in the peninsula's red soil. The wine is labelled Antica, and the vintage on the market is 2010. It underwent a spontaneous fermentation, then followed 6 months of skin-contact, then pressed. It was then aged for 6 years in old barrels of big volume. Biodynamically treated, it's bottled on a waning moon, and without clarification or filtration.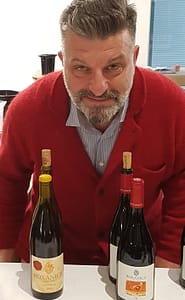 Mladen Rožanić in London, with the Antica to our left
Antica 2010 (Roxanich)
Roxanich plays some power chords here. Amber or bronze colour with some orange hints. Rich aroma of flowers, butter, apricot, roasted almonds, dried fruits and some volatile acidity. It's full-bodied, tastes wild and strong, it's dry, but with some sweet hints like roasted apples, nuts and caramel, all tied together with just enough natural acidity and rounded tannins. The finish is rich, with a volatile hint, it plays with your restistance towards oxidation, and should not leave anyone un-touched.
Price: Medium
Food: Roast duck, mixed grills, smoked vegetables (aubergine), cheese board
Leave a Comment