I am Vidar Kenneth Johansen, wine and music man.
I feel honored to have been with Vinforum, the oldest and most prestigious Norwegian wine magazine, since its foundation in 1986. I give lectures about wine, and over the years I have given speeches everywhere from private wineclubs, the national sommelier education, and I have also represented regulatory bodies in their respective embassies in Norway. I have also been involved in import, which has given me some insight in the thinking of producers, agents – and also how the Norwegian monopoly works.
As you understand, I have travelled in wine countries on various continents. More than anything, I have crossed the Iberian peninsula from east to west, from past to present, and if there is a Spanish or Portuguese village, then I want to see it, especially if there is something on the vine.
I believe nobody is totally independent, unless they don't live in a society. So even if I have been involved in import, I have friends that are wine producers, who organize festivals – and people who work in official bodies. But I can assure you that when I describe a wine I do my best to give you my most honest opinion. I don't believe in points for wine (nor for music), and you will get none from me.
I am the first to admit that my taste has changed over the years, so please don't plow through my 30 year old writings to use it against me. I think we as a wine drinking people have come a long way since then. Agnostician, yes, but I am on a mission: I believe in organic wines, as natural as possible and with sustainability in mind. About biodynamics: The religion you can have, but if cowhorns and preparations work (which seems to be very likely) it's perfectly ok by me.
Above all, Wine Chords is a blog that is constantly playing around, searching for harmony in the wilderness of wine.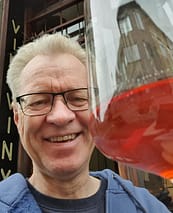 About the indication of prices
I live in Norway. But I also travel quite a lot, and the wines I write about can in theory be found somewhere between anywhere and nowhere. To state the prices is problematic because of several factors such as varying tax levels between countries, transport costs and promotional prices (often within the same country), and so on. So it's highly indicative, and I will not list the exact price. I don't want this to be so difficult that it ruins the joy. So, everything taken into consideration, I suggest a compromise, and untill somebody comes up with something better I have chosen to list the prices in three categories:
low: <200 NOK (<15€/15£/20$)
medium: 200-400 NOK (15-30€/15-30£/20-40$)
high: >400 NOK (>30€/>30£/>40$)
Contact
If you have comments that doesn't fit below the articles, please visit the corresponding facebook page here.